The October GlossyBox subscription box packaging wasn't boring, it was of course, the always beautiful standard pink one. Man this company and their packaging. They have set the packaging standard so high that I was almost bored with it for October.
There was a great mix of product this month. Face, hair and make-up, and I enjoyed most of it, a lot. I also really enjoyed how everything in the October GlossyBox subscription box was full size, except for one item. It was quite a treat.
Decleor Hydrating Oil Serum – 5ml
Wow this hydrating oil serum from Decleor really was very hydrating. It has a very appealing scent that doesn't overpower while you are wearing it and because it is an oil serum it isn't sticky in any way. It just felt so smooth and soft when I applied it. The only downside is that once I applied it, and then my moisturizer, I spent the whole day knowing it wasn't fully absorbed into my skin. From the beginning, it left residue on my fingers every time I touched my face. I love how soft and hydrated it makes my face feel though.
Emite Lip & Cheek Tint – 6ml
This is a very nice liquid tint that definitely lasts. Because it is a red that doesn't work for me I applied it to my hand and when I washed it off, there was still a remnant of colour left. I've never used liquid cheek or lip tint before so I don't know if that is something that always happens when using a liquid or if the Emite Tint is special in its lasting power. It was easy to apply though and was a really, nice, true colour to how it looks in the bottle.
Masque Bar Apricot Sheet Mask – 21ml (1 sheet mask)
Okay, I have really wanted to try a sheet mask for a while now. With all the hype of sheet masks and seeing them everywhere, I just wasn't sure which one to try though so I was very excited to get one in the October GlossyBox subscription box. I loved this apricot sheet mask, it said it would moisturize my face and it did. The scent was sweet and sitting on the couch watching TV with it covering my face, was surprisingly fun. I don't get claustrophobic but it was a bit awkward and enclosing. While a paste type mask would be more comfortable, the ease of applying a sheet mask totally makes up for it. After I took the mask off, I didn't like how my face felt sticky so I rinsed it and applied my normal moisturizer, just much less of it.
Niacin & Caffeine Root Stimulator Spray – 118ml
I don't really have a problem with hair breakage and my hair loss is rather minimal and can be tied back to stress, but I'm still trying this spray. I'm always trying to get my hair back as healthy as it used to be so it doesn't hurt to give it a go. I have only tried it a few times so far though so I haven't noticed much of a difference yet. I didn't enjoy the way it made my hair feel though but I am pretty picky and really like my hair to feel & look, natural & product free.
Unani Milk Cleanser – 200ml
One thing I wasn't expecting from this cleanser, the impressive, silky feel of it while I washed my face. I still can't get over how it felt, it was so unexpected but lovely. The scent is quite powerful but because it is a cleanser and it washes off, it doesn't stick with you and last. The cleanser worked, didn't dry out my already dry face, and didn't cause my face to breakout after. All bonus points. If I could, I would have the fragrance (whether natural or added) toned down a few notches but other than that, I liked it.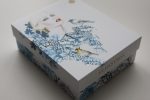 Read the September GlossyBox Subscription Review here.