October seemed to be the month for variety with subscription boxes and the October Petit Vour subscription box (check them out here) was no different. Make-up, body, and face. There was even soap, which I haven't had in a subscription box before. One again the Petit Vour subscription box impressed me with their choice of products as well as the quality of said products.
Red Apple Lipstick
So, before October 2016 I had never worn a red lipstick, I have always chosen a more neutral toned colour. Now I have two new favourite lipsticks and they are both red. This Red Apple lipstick is a rich wine toned red that takes very little to not just cover my lips, but to last for hours. Also, lipsticks always claim to be moisturizing when they really aren't but this Red Apple lipstick very much is. I applied very little, took most of that off and yet my lips still looked such a wonderfully, rich, red and they felt so moisturized. Not sticky at all. My lips did change the colour a bit pink after I was wearing it for a while but they still looked lovely.
Apoterra Skincare Tulsi Body Oil – 29.57ml
Oh man I love this oil. It has a wonderful scent, which is good because it does end up being left behind on your clothes, but it is also moisturizing. I do wish it had some sort of a dispenser though, I'm always worried that an opened bottle of oil will cause me to dump it all over when I'm putting some in my hands.
Kahina Giving Beauty Beldi Soap – 25g
Yup, this was one of the most unexpected and yet, enjoyed items from a subscription box. The soap was a firm type of gel, I guess you could describe it, that lathered up quite well, had a gentle eucalyptus scent, and was a great dark shade so that you could find it in the shower when it didn't stay in your hand or dissolve on your skin. I should explain. Because of the texture of the soap, I found it ended up staying in my hand longer than I realized which meant I found pieces of it on my bathtub. I also found pieces of it on my body that I hadn't worked onto my skin enough and it hadn't dissolved yet.
There were instructions for skin cleansing & softening, that I used, which meant after 10 minutes in the shower I massaged the soap onto my skin and left it on for a further 10 minutes. I did however sway from the instructions in that at this point I didn't rinse off the soap and exfoliate with my shower gloves, I exfoliated with the shower gloves then rinsed off the soap.
Doing the skin cleansing & softening procedure is a bit much for every day but I would enjoy it weekly. My skin felt lovely after my shower.
PAI Rosehip Bioregenerate Oil – 2ml
This oil says a lot of good things but when the directions told me to use only three drops, I started to become suspicious. I shouldn't have though because three drops ended up, surprisingly, covering my entire face. It explains that for best results you should use it without moisturiser unless you have dry skin. I tried it by itself but unfortunately I have the dry skin they described so I had to also use a bit of my regular moisturiser. It didn't feel overly greasy on my face though and it also has a very subtle fragrance. The brand claims to understand sensitive skin and I can tell you that my face didn't react in any negative way to this oil. I didn't try it long enough to know if it for sure would even out my skin tone but I really liked how it made my face feel.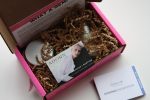 Read the September Petit Vour Subscription Box review here.