Once again the product in the Terra Bella subscription box completely (website here) impressed me. The October box contained items that not only made me wonder if I was actually going to use them but if it was even worth the price of the box. Yes, to both. I have enjoyed each item; I will continue to use each of them and they were definitely worth the cost of the box. The variety of all-natural products the Terra Bella subscription box offers each month, continues to impress me.
Wicked Escentuals – Caffeine Eye Serum – 10ml
I'm not a coffee drinker but even I loved this Wicked Escentuals Caffeine eye serum. It not only has a coffee scent but there are even little black bits, of what I assume are coffee grounds, in this serum. The roller applicator allows you to apply the serum gently which is appreciated considering it is around your eyes.
Urban Oreganics Raw Cacao Mask – 56.7g
This mask felt nice when I was putting it on and the hint of chocolate scent was an added bonus. It hardened up really well, I couldn't move my face, but it also washed off very easily. My face felt amazing afterward too. So soft and smooth. It did feel a bit dry and it used a bit more moisturizer than normal but it had also been approx. 60-90 minutes since I had washed my face so I don't think it was just the mask causing that.
The Parlor Apothecary Cuticle Oil – 15ml
This is a really nice, moisturizing cuticle oil. I love the brush applicator. Every time I get body oil there is no applicator and nothing to regulate the amount of oil I pour out into my hand so this brush was a welcome surprise. It takes a while for the oil to absorb into the skin but once it does it left my cuticles feeling rather soft. UPDATE: One day I realized I had cracked skin on my cuticle so I applied some of the cuticle oil to it and allowed it to absorb naturally while I watched tv. I didn't think anything of it until the next afternoon when I looked at my hand again & the crack had healed. I am a full on believer in this oil. I hope it works as well for everyone.
Feet Tea – Foot Soak Tea Bags – 1 tea bag
What a wonderful way to spoil yourself and make your feet feel lovely at the same time. This foot soak tea had lavender which gave it an amazing aroma plus helped me relax, but also mixed with the Epsom salt, soothed my tired feet and made them feel so soft. For someone who doesn't normally soak her feet, this was an experience I would like to repeat. I'm so glad I had the opportunity to try it.
***Don't forget to click on the links (product names) above for the companies and their products. They each have some amazing items, not just the ones in the Terra Bella subscription box.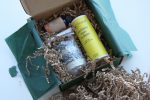 Read the September Terra Bella Subscription Box review here.