Like the Petit Vour box, the September GlossyBox subscription box didn't arrive until we were into October but it made up for it by being absolutely stunning. It was a specialty designed box by Antonio Soares and it was called Secret Garden. I tell you GlossyBox really does outstanding packaging. The product was pretty awesome too. I was so impressed with everything about the September GlossyBox subscription box.
Borghese Mascara – 3g
What a really nice, smooth, silky mascara. It goes on smooth, not clumpy or thick, and there is no flaking. The colour isn't a serious dark black or anything but the quality of it, makes it totally worth using.
Korres Twist Lipstick – 2.5g
I haven't tried this lipstick because it really isn't a shade of red that will work for me, which is unfortunate because I absolutely love the Korres product. I use the milk cleanser, the yoghurt cleanser, several different moisturizers, shower gel and body lotion. They have the largest quantity of products that my face is happy to use. I just wish it was easier to find in Canada.
Sesderma C-Vit Serum – 3ml
If you are looking for a serum that will provide extra moisturizing, this isn't the one for you. I felt it added an oompf or brightness to my face but the sample doesn't allow the opportunity to use it long enough to know for sure if it will reduce wrinkles or clarify spot marks. I won't be using this on a regular basis though simply because I felt it did not add enough moisturizing to my face besides what I'm already getting from my current routine.
Sensyses Cleanser Classic – 15ml
This is a good make-up remover, it worked and I didn't have to struggle to get any product off my face. As I have learned in the past the sheer act of wiping my face with something, aggravates it, so while the cleanser felt refreshing on my face with the first wipe, unfortunately after the second wipe it started to burn. The instructions don't mention having to rinse the cleanser off but I ended up using my regular cleanser to get the remaining make-up, as well as the cleanser, off my face. It was a nice cleanser though and totally did the job.
Phyto Paris Smoothing Oil – 30ml
You know what you shouldn't do with this smoothing oil? Spray it on your hair like it was a leave-in conditioner or like you are trying to wet your hair. By the time you notice the wetness, or shine, it means your hair is coated and dripping in oil. Not only did I rock the wet/greasy hair look all day but every time I touched my hair, my hands were covered in an oily residue. That was even after I took a towel to my hair to wipe out as much product as I could. I didn't wash my hair the next day but I rinsed it so it was a bit better, but it was still weighted down. After I washed my hair the next day, I didn't bother putting any product in it and it was quite a bit less frizzy than it normally is.
The next time I used the Phyto Smoothing Oil I sprayed way less on my hair and it was a lot better. I used it while my hair was wet so this still gave me a wet/greasy look for two days but at least I didn't have a greasy residue on my hands every time I touched my hair.
The third time I used the Phyto Smoothing Oil it was on dry hair. I only used 2-3 sprays per side of head and nothing on the back but I used my hands to try and spread the oil. The sides were not frizzy but the back was a bit. Unfortunatly parts of the sides still looked a wee bit greasy, not much but it was there.
Model Launcher Brow Duo Pencil – 0.2g
As I said in the FabFitFun review (read it here), my eyebrow has always been something I've had to control as opposed to emphasize, so I have never used an eyebrow pencil before. I liked that the colour is more of a subtle, blended colour though so that you can basically feather it on to fill gaps instead of having it show up rather obviously on your face. The texture of it on my face is a lot different than what I was expecting. It almost had a sticky, matte feel to it. Also, I love the brush on the other end of the pencil, for someone like me with long eyebrows, it is great to put them in place and leave them.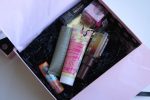 Read the August GlossyBox Subscription Box review here.