I found out about Ipsy from a co-worker back in the Spring but just recently thought about signing up for myself. I signed up for an Ipsy Subscription Glam Bag on August 25th but was told I was on a wait list. On September 1st I received an email with details of what was in the September Ipsy Glam bag and my Visa was charged, then September 2nd I received an email telling me I would be receiving the September bag. So you know, not that much of a wait, thankfully. I didn't have to wait too long for the bag either, I received it about one week after it shipped.
What I didn't appreciate, or even like, about this whole process was being told I could get off the waitlist if I gave complete access to my Facebook or Twitter account so Ipsy could see everything I posted as well as post for me. You don't have to give them your password but I still didn't want anyone else posting from either of my accounts or even seeing everything I post. It seemed like a very intrusive incentive to get off the wait list. It's not that I felt threatened but it seems like the wrong way to get people signed up. Almost like blackmail even though it isn't really. I don't know how to describe it but it really felt dodgy.
The thing that sets Ipsy apart from most of the other monthly sample subscription boxes is the fact that every month you receive a different Ipsy designed make-up Glam bag that contains your samples. The September 2016 Glam bag was called Glamazon.
EYEKO eye do liquid eyeliner – 0.04oz
A pen style, waterproof, lash-enhancing, carbon black, liquid eyeliner.
I have always had droopy eyelids, my left eye particularly, but as I get older and my body fights gravity less and less, the droop gets more pronounced. It is now to the point where eyeliner is an issue. Because of my leaky eyes I haven't used pencil eyeliner in years, instead I use liquid liner and now that gravity is starting to win the fight against my body, there are new problems. Smudging, smearing, and sticking. The EYEKO eye do liquid eyeliner has almost completely saved me from all of that. I can now wear eyeliner again without wondering about the surprise that would await me the next time I looked into the mirror (with the above description of droopy and leaky eyes I'm pretty sure I've already painted a pretty good picture of possible surprises). The eyeliner goes on smoothly, dries immediately, doesn't smudge and doesn't stick my eyelid to itself. I did however get some smudging and racoon eyes when I applied it shortly after I had freshly washed my face and moisturized. This now my new go-to liquid eyeliner!!
Tarteist Lash Paint Mascara by Tarte – 3ml
A jet black lash paint mascara that is vegan, ophthalmologist and dermatologist tested.
While this mascara went on thick and black to add volume and colour to my lashes, it was kind of goupy and left me with lumps on my lashes and flecks on my face throughout the day. It doesn't say it is waterproof which totally made sense when I saw my racoon eyes in the mirror.
Befine Exfoliating Cleanser – 28g
Exfoliating Cleanser with brown sugar, sweet almond, oats, and a few other ingredients.
Smelt wonderful and I liked the all-natural aspect of it but it was a bit too abrasive for my sensitive facial skin so I used it on the backs of my hands. It really made my skin feel smooth and soft as well as look brighter.
Crown Make-up Brush
This brush is so soft! It came at the perfect time because I needed one and didn't already own one but it also came with the added bonus of being a really nice soft brush that applied the product evenly. I really like it.
Epice Restorative Toner – 30g
Gentle moisturizing skin toner for all skin types.
Unfortunately I didn't actually use this on my face because it was trying to calm down from other products and I felt using something on it that had alcohol as an ingredient would be too much for my skin. I also don't normally use a toner. So I used it on the well-used, back of my hand. The fragrance wasn't overwhelming but I might have had too much on because as I was rubbing it on, it turned almost milky and reminded me of a gentle exfoliator I use that rubs off dead skin.
Overall
As a Canadian, the Ipsy Glam bag subscription works out to be not too bad of a price. It also has really cool bags, and five samples. Plus you can earn points that can be used for monthly bonus items.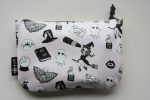 Read the October Ipsy Subscription Glam Bag review here.