I was quite excited to find Terra Bella as an all-natural subscription box that ships to Canada amongst all of the other make-up and beauty choices. They have three boxes actually, Terra Bella, the beauty box, the Make-up Edit for well, you know, make-up and the Bridesmaid Box for beauty items with a wedding theme.
The Terra Bella subscription box is made up of handmade, cruelty free, natural products made by small businesses. No chemicals and no large corporations. You don't get samples in this box either, you get 3-4 full sized items. It also has a very easy sign-up process.
This box arrived probably wrapped the best out of any package I have ever received to ensure nothing broke on the way. I actually had to take out stuffing before I could see what was inside. There was the box stuffed to the capacity wrapped in tissue paper with a lovely Terra Bella sticker and inside, the glass jar was also wrapped in bubble wrap. Nothing leaked, nothing broke and nothing even moved during shipping.
The Terra Bella Box Contained:
Cultivar Clean & Healthy Organic Dry Shampoo
Herbal Transdermal Botanical Makeup Remover
Wellborn Essentials Chai Spice Body Butter
Earthtastic! Vegan Lip Balm in Vanilla
Cultivar Clean & Healthy Organic Dry Shampoo – 135g canister
Cultivar used to be the skinnyskinny brand and apparently this dry shampoo was and is one of their best-selling products. It is all natural with no chemicals, the reviews are great and even mention using it also as a body powder. While this product sounds great and even smells good with the grapefruit & cardamom essential oils, I am not really a fan of using dry shampoos so I haven't tried it yet. I will be going travelling again in a few months though so that mixed with the fact that this dry shampoo is all natural, means I will be using it soon.
Herbal Transdermal Botanical Makeup Remover – 2fl.oz. bottle
This all natural make-up remover is made with spring water, 90 trace elements, lavender, tangerine oil, grapeseed oil as well as citrus bioflavonoids & vitamin C ester. That is all and it removed my waterproof eye make-up without me loosing even one precious eyelash from scrubbing. I have to actually try to wipe near my eyelash line to remove my waterproof liquid eyeliner but that is as difficult as it gets. The only downside is that even though it claims it leaves no oily residue so you can reapply make-up right away, for me, I have to wash it off because it does leave an oily residue and I feel it on my eyeballs when I blink. It might just be me but I wanted to mention it.
Wellborn Essentials Chai Spice Body Butter – jar with no size on it
This is a small business that is sold on Etsy. It is made with organic unrefined coconut & grapeseed oils, organic raw shea butter and scented with cinnamon leaf, clove, ginger and nutmeg essential oils. It is basically fall in a jar. It is a solid body butter but all it takes is your fingers to warm it up, melt it a bit and apply it to your body. With the ingredients used and the fact that it solidifies and melts with temperature, it is a bit greasy but I haven't had it leave a residue on any of my clothes yet. My skin feels moisturized and smells very festive though. I also love the directions…..Apply as needed. Enjoy.
Earthtastic! Vegan Lip Balm in Vanilla – 0.21oz tube
The first thing you notice about this lip balm is that it is in a paper tube. I have never seen anything like it and it is especially cool because it is a 100% recycled paper tube that is biodegradable/recyclable. The lip balm itself is once again made with 100% natural ingredients as well as in small batches. The only annoyance I had, and this is completely personal, is that I felt like I could smell and taste the paper on my lips after I applied the lip balm. This lip balm feels wonderful on though and because it is all natural the scent of vanilla is very subtle. It leaves my lips hydrated.
I love the Terra Bella box because it has introduced me to some wonderful products I doubt I would have found on my own but unfortunately, shipping to Canada and the exchange rate are two things you have to consider. If I lived in the USA though I think the value is good for the full size items you receive.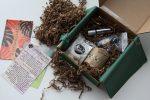 Read the October Terra Bella Subscription Box review here.