One day at work I opened my emails, and there was a beaming one (maybe it was just beaming in my memory). It was from WestJet, offering a new route to London, England. There was also an amazing introductory sale price that worked out to be about $700.00 return after everything was calculated, for the first few months of these new flights. Within minutes I was on their site booking a flight. I had also texted my cousin Megan to join me as a birthday celebration. In her words, she made the fastest, biggest decision of her life and she felt sick. It was great; I needed to get away and she had never been to Europe. We visited Amsterdam, Paris & London. What I didn't expect, but thoroughly loved, was that because we are both museum lovers, this two week vacation turned into what I happily refer to as, 'The 2016 European Museum Tour'.
*This is a really long post with heaps of information*
WestJet to London
WestJet was their normal, wonderful, customer service orientated selves so there is not much to share on that regard but there were a few other things. Food is not included in this flight. You have to either buy your meals and snacks from the airline or bring your own food on the flight. At the time I flew, there was a vegetarian meal option that was full of cheese but there was no vegan option.
The other item of note is there are no personal TV's on these airplanes. You have to download the WestJet app in advance to either your laptop, tablet or smart phone if you want to watch the in-flight entertainment. Of course, since November 2016, you can also download TV shows and movies from your Netflix account directly onto your tablet or smartphone to watch later while you are offline and in Airplane Mode.
London to Other European Locations
Once we knew we were on our way to London we had to decide where we wanted to go in those two weeks. Did we want to stay in the UK or did we want to head over to Europe also? Transportation can be quite cheap once you are in the UK and Europe. There are trains (we used GoEuro (affiliate link) to book our train trips), buses and airplanes. You even have the option of seriously discounted flights from companies like Ryanair and EasyJet. We did the research and decided for our purposes, a flight out of the same airport we landed into in London was the best, most convenient, choice for us this time.
Accommodation
We chose to rent studio apartments through Airbnb for each of our locations in Europe (see my previous article on Airbnb). Our studio apartment in Amsterdam was relatively new with a very comfortable double bed, small couch, TV, video games, small kitchen, quite a large bathroom, and a small balcony. Other than a shower curtain, the shower in the bathroom wasn't really separated so the entire floor flooded. One day the water even ended up running out under the bathroom door into the hallway. I have experienced this shower/bathroom situation in the Netherlands previously so I don't think this was an isolated incident. Other than some construction, we were also in a great location. There was a view of the water and we were only a few minutes walking distance from the bus stops, the grocery store, as well as other shops and restaurants.
An added bonus for us in Amsterdam, our Airbnb host picked us up at the airport and drove us to the apartment, for a small fee. It was convenient and very much appreciated after a full day of travel. We didn't have to get ourselves and our luggage to a strange location. I had never used Airbnb before this trip but we had such a great experience in all the cities, I ended up using them in Australia and New Zealand also.
Getting Around Amsterdam
Not only is Amsterdam a great walkable city but the transportation is very convenient and easy to use. Everyday we caught the bus to the Centraal Train Station from our Airbnb rental. The Centraal Train Station is a transportation hub so from there you can catch trams, the underground train or a bus. Thankfully our Airbnb host provided us with a reusable transit card which was another appreciated benefit.
Amsterdam the City
Besides the amazing history in Amsterdam, there is the architecture, canals, tulips, cheese, food, beer, the people, their culture, and of course, the more open laws regarding drugs and sex. I have been to Amsterdam a hand full of times and each time I visited I did different things, depending on who I was with.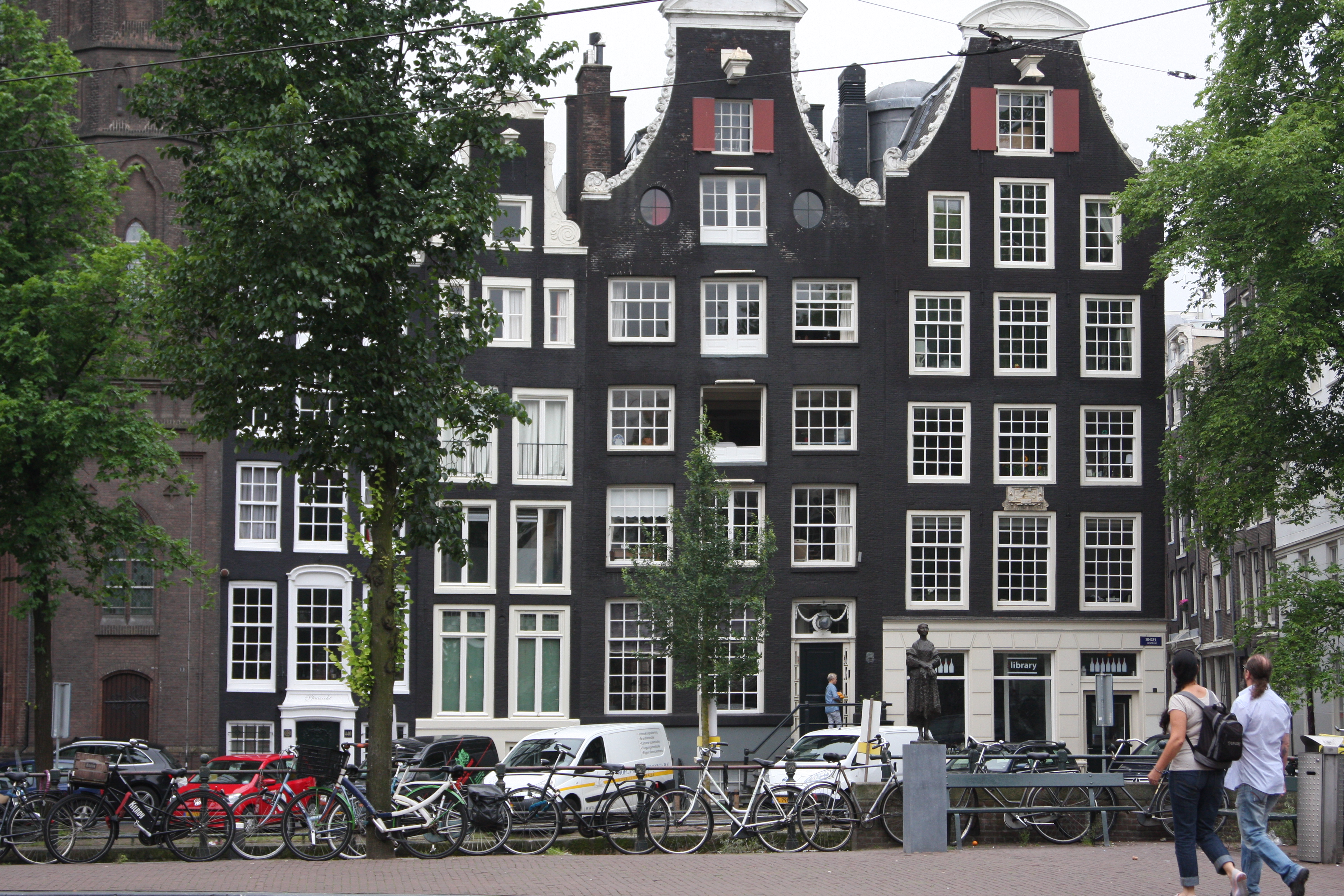 I remember the first time I went; the big draw for us was seeing what the coffee shops with their marijuana and the Red-Light District were all about. We also visited the Anne Frank House, the Van Gogh Museum and ate some pannekoekens (Dutch pancakes). Another time I was on a European tour that stopped in Amsterdam for a day or two. On that trip we visited a marijuana museum and saw a sex show. Then there was the time with the parents when we had an approx. four-hour layover on our way to Scotland. We put our things in a locker at the airport and took the train into the city to walk around for an hour or two. I also ate a pannekoeken. When I think about it, really, the only thing I have consistently done in Amsterdam each time I am there, is eat pannekoekens.
[bctt tweet="I feel like no matter how many museums I have been to in Amsterdam there are still so many more to see." username="dapsile" nofollow"yes"]
Amsterdam has many, varied types of museums. There are the traditional ones for relics, art, history, and historical artifacts. But there are also museums for things like cheese, diamonds, fashion, tulips, sex and of course marijuana.
I mentioned in the past I had been to the Anne Frank House. While we didn't have a chance to visit this trip, it is one of the places I recommend because I found it to be quite a bit different in real life than I had envisioned while reading the book. Of course it is incredibly busy. Years ago when I was there, we had to stand outside in a que that went down the street. When we did enter, it was in a constant stream of people. We weren't really able to stop and look around too much but there also wasn't a lot to see. I mean it wasn't a luxury accommodation, these were people literally hiding for their lives. According to their website, now they sell tickets in advance as well as at the door.
We spent our first day this trip doing a bit of exploring as well as visiting a few sights. We also went back in the evening to just explore this beautiful city and see it's stunning transformation at night. No trip is complete either until you witness for yourself what the Red-Light District is about. We were visiting around June 24th and it was wonderful because it didn't get dark till around 11 pm and the sun was rising at around 4 am.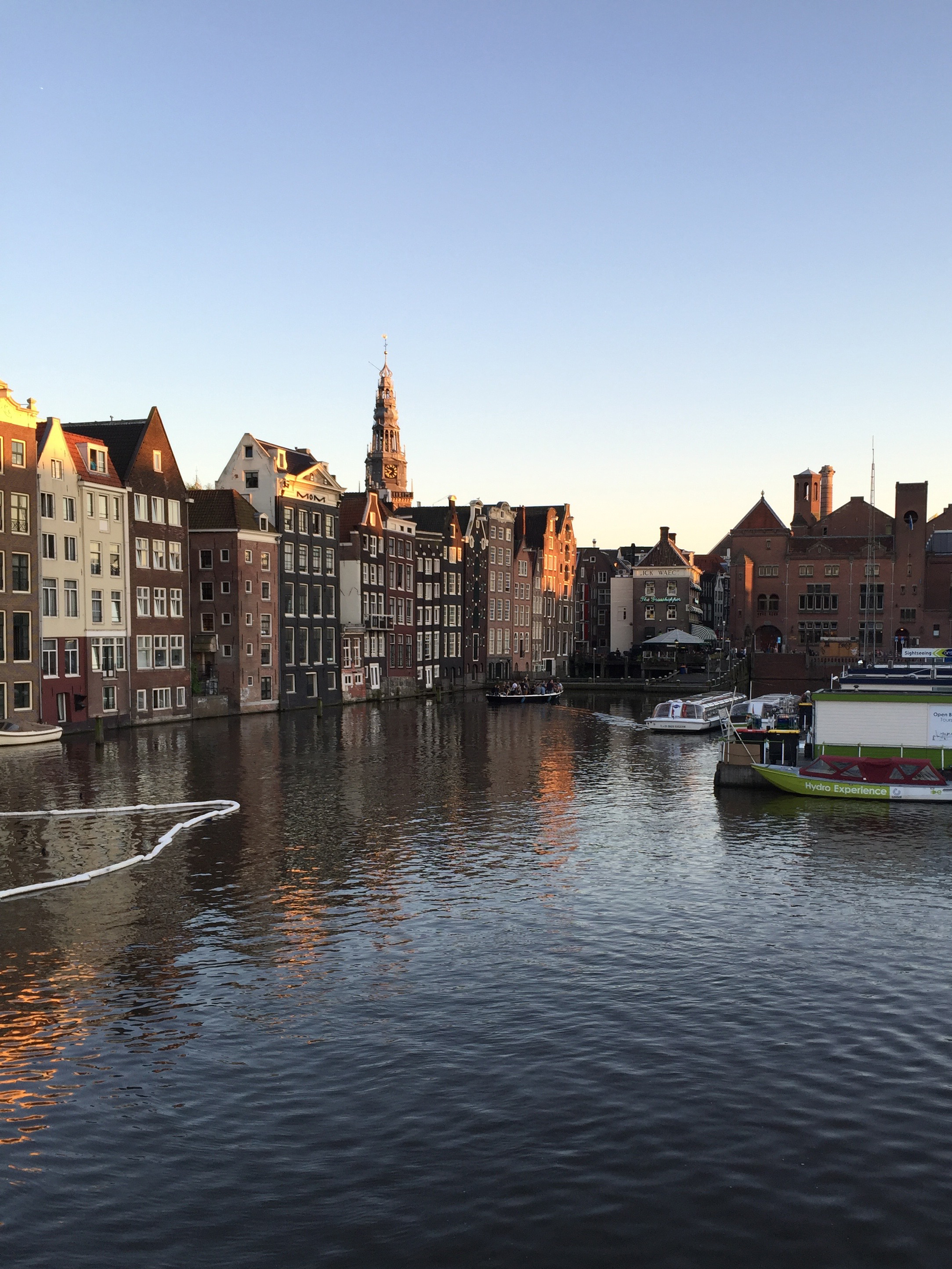 The Begijnhof
My cousin had just finished her schooling to be a history teacher so the Begijnhof was her number one choice of places to visit. The Begijnhof is one of the oldest inner courts in the city of Amsterdam and it also has the oldest wooden house. Originally it was a Beguinage, which is a kind of non-nunnery nunnery, and it possibly dates back to the 14th century. Although that oldest wooden house, only dates as far back as the 16th century. Only, the 16th century. I love Europe.
I live in an apartment which means based on the noises and shaking walls, I know when my neighbour's relationships aren't going well and when they are going very well. So I am always impressed and surprised by these historical buildings I visit in other countries and the serene, calm, quiet experiences I have while in them. I remember being in one place in Fez, Morocco where I could have happily meditated while I was inside, and there wasn't even a roof.
This was my first visit to an inner court in the Netherlands. Even though it was right in the middle of the city, it was calm, peaceful and so quiet. It was also easy to forget people lived in these houses. Of course, that was until you walked past a ground floor window and saw someone in their home doing their everyday activities. Then you just felt a wee bit like a peeping tom. There is only a small portion of this inner court open to the public though so you won't feel tempted to look into a lot of homes.
The Amsterdam Bloemenmarkt
The flower market – Bloemenmarkt – kind of explains itself. Although it is the only floating flower market in the world and it dates to the mid 1800's, so I guess it doesn't explain itself too well. And it is quite large. The market contains more flowers and flower bulbs than most of us will ever see anywhere else in our life. You can even buy them as a souvenir. There are other things to buy and different types of souvenirs, so it is not just flowers. But the Netherlands are known for their flowers so they are wonderful to see.
Moco Museum
When we were out exploring, we came across a few different adverts (one is below) for a Banksy exhibit at the Moco Museum. I was super excited about checking it out. While I would prefer to see a Banksy painting in its natural habitat, that might never happen and I really wanted to see his work in person. My cousin on the other hand was excited to see there was also an Andy Warhol exhibit showing. I had never seen any of Andy Warhol's work in person. The talent of both artists, as well as their use of various mediums, was very impressive. I loved the way these exhibits were displayed and laid out in the museum also. The Moco Museum is located in a historical house in the Museumplein with other museums including the Rijksmuseum. The area is easy to reach with its own tram stop.
Rijksmuseum
Also located in the Museumplein, the Rijkmuseum has such an amazing assortment of Dutch artists and historical artifacts. I mean very few museums contain entire sections on locks and keys. Or how about the section with early versions of picture slides. Not to mention the furniture pieces, the clothing – including Yves Saint Laurent, doll houses, fashion, a period room, delftware, porcelain figurines, jewellery, weaponry, model ships and more. Plus the paintings. There are paintings from Rembrandt, Vermeer, and Van Gogh; just to name three. It was a wonderful surprise to walk into the museum and the first thing we saw, in the first room we entered, was a Van Gogh self-portrait. It was life imitating art with the sea of selfie sticks.
Museum Het Rembrandthuis
This museum is, well, Rembrandt's house and workshop. It is sparsely furnished but that could have been what it was like during that time. Or, there weren't many original pieces left to put in. I don't know, but I did find it quite interesting to see and walk around this house. Probably the best part of the museum though, is all the detail given to the art aspect. In the workshop, you are shown different techniques, how colours were created, as well as different mediums.
While this museum was interesting to see being a history lover, it was even more interesting as an art lover.
Shopping in Amsterdam
There is so, so, so much shopping to be done in Amsterdam. There is something for every kind of tourist. I mean, if there is a museum for it, just think of the shopping opportunities available. Not only does the city offer niche shopping options but there are both Dutch and international brands. Of all price ranges.
A few years ago I was in the Amsterdam airport for a few hours, which by the way is a great airport for a layover, and I bought myself an Oilily handbag. It is one of my absolute favourite handbags. This means it has been used a lot and needed to be replaced. Unfortunately I didn't find a new one in the shops that appealed to me enough to replace it. I did find a pair of shoes instead though.
My cousin was wearing a pair of Palladium boots on our trip and until then, I had never heard of the company. I really liked her boots though so when we saw a shop, we were both quite happy to check it out. I was kind of eyeing a few different pairs but I wasn't really feeling like I needed to have any of them. Until my eye caught this flowered pair of shoes. It's weird. I rarely buy flower patterns or have flowers in my home but as soon as I go travelling I buy flower patterned items. Anyway other than the flowers, the thing I love the most about my Palladium shoes is the comfort. Normally shoes like Converse or Keds, have a less rounded toe which doesn't fit me well and is uncomfortable. My Palladium shoes though, have a more rounded toe and are comfortable for me to wear.
Eating in Amsterdam
Staying in an apartment with Airbnb meant we had the use of a kitchen with a stove and a refrigerator. We didn't have to eat every meal in a restaurant. However, we did eat at a cute little restaurant one morning for breakfast, for pannekoekens. I always eat the sweet ones. Even though I can't remember the place we ate at to share with you, I haven't eaten a bad pannekoeken in all my visits to the country.
We did eat lunch while we were out and on our first day we ate at La Place. This restaurant is set-up almost like a giant buffet style place but a lot nicer and classier. There were different sections that each offered a large variety of options. There was the salad section, the warm food section, etc. You can choose your own combination and whatever portion size you want. All the food is 100% natural, locally sources and home-made. It was all good but I especially enjoyed my smoothie. Although this restaurant wasn't in the mall, it was in the shopping area. It had a more casual, feel to it.
On our second, and last day, we ate at Café Karpershoek. The oldest pub in Amsterdam. I had this amazing vegetarian open faced sandwich and my cousin, tried the croquettes. My Mom's husband is Dutch and he really wanted her to try them while she was in the country. She loved them. This pub is in a great location, and it has wonderful food. Even though it has so much history to show, the atmosphere wasn't overly touristy. There were heaps of locals.
I've shared two locations but this Beers & Brunch article from Passports to Life thankfully shares more for you.
It was a quick two days in Amsterdam but we saw a lot and enjoyed ourselves.
For such a small country, the Netherlands has so much to see. While we only went to Amsterdam this trip, I did visited Utrecht many years ago and really liked it.
If you are interested in or starting to plan a trip, there are several travel related products and websites listed on the Yup…..We Like These page, to help you out. Some of the affiliate link descriptions also contain a coupon code for you to use.