Well, this was a first for me. The FabFitFun Spring 2018 subscription box was the first box I have received from them, that I was only about 60% happy with. Don't get me wrong, the box was filled with great products, there were just more things I didn't want than I was expecting. Oh well, I guess no one is perfect. Considering how many people receive the FabFitFun subscription box and how many wonderful items are in each box, it's impossible to please everyone, 100% of the time. This was just my turn to not be 100% pleased.
**There is a spoiler at the bottom of the page for the FabFitFun Summer 2018 box.**
ISH Lip Statement Palette
This is a wonderful lip palette by ISH (website) with 11 "intensely pigmented" colours as well as a balm. They contain shea butter, aloe vera, as well as jojoba & olive oils. See all wonderful. The only problem is I am not a lip colour person and I already have quite a collection of lipsticks and glosses. So unfortunately, this lip palette isn't something I will use or keep.
Rachel Pally Reversible Clutch – I received Zahara
This Rachel Pally clutch (website) is so cute and colourful, I really wish I used clutches. Like ever. Even if I thought I would only randomly use it I would keep it, but alas, I will never use a clutch so this is another one I won't keep. Unfortunately, this is the clothing/wearable type item I usually love in my boxes which means I didn't get to enjoy my FabFitFun Spring 2018 subscription box like I have all the others in the past.
As the name explains, it is a reversible clutch and it is made with vegan leather, canvas (the floral pattern) and polyester on the inside. There is also quite a large pouch inside using the same floral patterned canvas material.
Anderson Lilley Sunset Collection Candle – I received Fresh Linen
When I first received this Anderson Lilley (website) candle, I loved all the ingredients and the fresh scent. After it sat on my counter unused, still in the box, for a few weeks, I started disliking the scent. It became more floral to me and I don't like floral scents.
The candle contains mandarin orange, kaffir lime, clover, white tea, cyclamen, muguet, lavender, sandalwood, patchouli, tonka bean, and foin coupe. So quite the assortment of scents but they all work really well together. Even though it is wonderfully scented, I'm glad I didn't take it out of the box to use because I won't be keeping it. It is perfect for someone else with different nose smelling issues than me though.
Physique 57 Massage Roller
This is the fit part for the FabFitFun Spring 2018 subscription box. Actually, this Physique 57 (website) massage roller scared me when I first saw it. In my head, I saw a device used to cause pain with these small probes covering it. After using it, I have a different opinion. Yes, I do notice those pokey bits, but they don't really cause me pain so much as they tend to make me feel like they are getting my blood flowing. I use this massage roller on my calves the most and they always feel good after.
Free People & Understated Leather Starry Eyed Travel Eye Mask
I love eye masks. I find them a great accessory for air travel to help keep distractions out when I am trying to sleep on a plane. This Free People (website) collaboration with Understated Leather (website) eye mask is even better, it comes with a cooling pack to help stressed out eyes.
My eye mask is grey. There is a soft material on the eye covering side and leather with shiny stars in silver and gold on the outside, for everyone to see. If you freeze the cooling pack in the freezer for no longer than 5-10 minutes you can use it to help stressed, tired, or sore, eyes.
Dermelect Cosmeceuticals Makeover Concealing Ridge Filler
Apparently, this Dermelect Cosmeceuticals (website) concealer is supposed to keep your nails healthy by treating them with vitamins, protein, and moisture. It is also supposed to fill the ridges on your nails. I tried it on one hand, with only one coat. I can't speak about the health of my nails but I can tell you the nails with less ridges, I felt it was filling them. The nails with larger ridges would probably need more than one coat. What I liked best though was the really soft pink, almost shimmering, tinge. It looked natural but with a bit of something to it. This nail concealer can be worn as a base coat under your polish, or on it's own.
Murad Skin Perfecting Lotion
This Murad (website) lotion is a nice light, oil-free moisturizer that I am looking forward to using once summer starts with the warmer temperatures. It is supposed to minimize the appearance of pores, refine texture and soothe redness and irritation. It also says it helps blemish prone skin while providing hydration but for whatever reason, after using it for a handful of days, my face was breaking out. Not sure if it was my food choices those days though so I will try again when the temperatures start heating up. It is a really nice light lotion though.
The two choices we had for the FabFitFun Spring 2018 were a Beauty item and a Jewellery item.
For the Beauty item choices:
KNC Beauty All Natural Collagen Infused Lip Mask (5 pack)
and the item I chose
KORRES Guava Body Butter
I picked this body butter because I LOVE the Korres (website) brand. It is the brand my face (which is crazy sensitive and picky) prefers. I honestly have nothing but good things to say about Korres and especially this body butter. The scent is delightful and subtle so it isn't completely overwhelming all day long. It also does a great job moisturizing my dry legs.
The Jewellery item choices:
Maya Brenner Designs LOVE bracelet
and my choice
Ettika Day Dreamer Tassel Earrings
I chose these Ettika (website) earrings because so far I haven't been impressed with the necklaces I have received in my previous FabFitFun boxes and I was concerned I wouldn't like the bracelet. The problem is, while these tassel earrings are super cute, they are really far out of my style/comfort zone. Part of me thinks I should just give them away and part of me thinks I should step out of my earring fashion box and embrace them. They really are cute.
---
If you are still undecided about receiving your own FabFitFun subscription box, here is a sneak peek at one of the items from the Summer 2018 box. It is a brand new item, launching exclusively with FabFitFun. The Foreo Luna FoFo (website) is not only a pulsating device to provide you with a deeper clean when cleansing your face, but this one will also work with your smart phone. It will analyze your skin conditions and moisture level to create a personalized skin profile.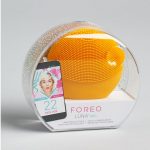 Head over to our Yup….We Like These page to find a link and a $10 OFF coupon code to sign-up and receive your own FabFitFun Subscription Box.