A few years ago I was sitting on the couch watching TV. It was close to Christmas, pouring rain outside and I was bored. So I did what everyone does in today's society. I checked my Facebook news feed to see what people were doing. Don't lie to yourself. We all do it. We're standing in line somewhere, we're in class, we're watching TV, we're on public transportation, and not only are we bored but we want to know what everyone else is doing so that we can live vicariously through them or feel better when we find out how lame their life also it. We all have excitement in our lives but it also happens to be mixed in with times of absolute boredom of our everyday routine or in some cases, lack of friends and things to do. That day was the latter for me but it worked out well.
A cousin of mine (actually the same one who encouraged me to go to school) had posted a link to a chocolates recipe because she was taking part in one of those Christmas treat exchanges. I thought, eh, why don't I check it out, she has a healthy lifestyle and she's a very healthy eater. So I clicked on it. Usually at this point I read through quickly, find sugar as an ingredient and click away discouraged again at finding treats to eat. This time I had to read through twice. I couldn't believe my eyes, there was no sugar. This healthy chocolate had three ingredients. Cacao, coconut oil and a liquid sweetener of your choice. I was so frickin' excited I can't even explain it to you, well, except for the fact that it took me like three minutes before I remembered I didn't have any coconut oil and my dreams of eating some chocolates that night in front of the fireplace and the TV were dashed. I didn't let it keep me down though. The next time I was at the grocery store I picked up a jar of coconut oil, went home and immediately started experimenting. I haven't stopped since.
The one down side is that because of the coconut oil these healthy chocolates melt very quickly when not stored in the freezer. These damn things definitely melt in your hands! It also means you can't make any cute shaped chocolates with those plastic chocolate molds everyone else gets to use because the chocolate melts before you can get them out of the mold. Don't feel left out though, I have found a way, kind of, around this and I am willing to share with you. I use soft silicone molds as well as a cute ice cube molds. I find soft silicone molds the easiest to use because you can completely flip that thing inside out to get the healthy chocolates out. The solid plastic is harder to remove the chocolates. They both are easier to get the chocolates out of though than those clear plastic molds that are sold everywhere for homemade chocolates and candies. I also use mini bread loaf pans to make bar shaped chocolates or to break them up into pieces to make chunks for cookies.
I try to use the healthier option for ingredients so I use Organic Raw Cacoa for the chocolate part and of course we all know that Agave is the only sweetener I can use. For the coconut oil, I'm not sure if I use the healthiest option cause I really didn't investigate that too far but I do use Trader Joe's Organic Virgin Coconut Oil. I'm actually also using the coconut oil as a weekly hair mask to try and get rid of my super dry frizzy hair that is either due to body chemistry change, age, or colouring my hair. Thanks to colouring my hair, it looks incredibly young so it's probably from that. Nonetheless the frizz was driving me crazy and I really want to get rid of it. So far so good.
The first batch of healthy chocolates I made was in that homemade plastic chocolates mold I told you about. They were a struggle and they changed shape a bit but it also only contained those three ingredients so it was some pretty strong dark chocolate. I learned that I wasn't a dark chocolate fan but that it made good chunks for cookies. I tried a few different things to make it taste a bit more like milk chocolate but nothing worked, until I used cashew butter. The creaminess of the cashews completely toned down the dark chocolate.
Then I got another good idea from a commercial on TV. Cashew butter and chocolate……. That's right, I made it into cups, okay mini squares but let's not get too literal here, we just really want to enjoy chocolate. I put a bit of the cashew butter chocolate mix in the bottom of the square, put it in the freezer for awhile, added a bit of sweetened with agave cashew butter flattened, then a bit more of the cashew butter chocolate mixture before putting it back into the freezer to settle. I've also made cashew butter chocolates with bits of almonds, bits of cashews, and even one with puffed quinoa and brazil nut bits. Because you have to eat these chocolates from the freezer I use bits of the nuts instead of whole ones so that I don't hurt my teeth when I try to eat them later. So far I enjoy all of these different versions.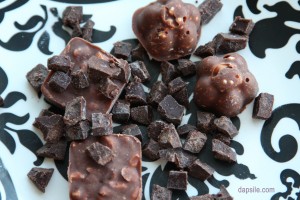 The blog with the original recipe is Chocolate-Covered Katie (website). It is really good as it is but if like me, you are not too fond of eating dark chocolate, I use equal parts Cacoa, Coconut Oil and Cashew Butter (I use Nuts to You Nut Butter-Smooth Cashew Butter) and add the Agave as Chocolate-Covered Katie suggested, 3 tbsp to every ¼ cups of the others. She has some other great healthy ideas for dessert so try to check out her blog for other ideas.
Another chocolate item I was missing for my Fall & Winter routine was Hot Chocolate. I used to drink that stuff all the time because I don't drink coffee or tea but of course it was another item I had to cut out of my diet. One morning I thought, this is ridiculous, why don't I just try making a healthy option. Thankfully I was lucky and figured it out my first try. I know it's not brain surgery or anything but let's not burst my personal back-patting bubble.
Dairy-Free Healthier Hot Chocolate Recipe:
2 cups of coconut milk
2 tbsp (heaping-ish) of Organic Raw Cacao
Agave to taste (or your sweetener of choice)
The trick though is to put about one cup of the coconut milk in a microwave safe mug (I use a glass, 2 cup measuring cup-I like the see through part as well as the handle), add the cacao and a bit of agave (or your sweetener). Then microwave it for a few minutes. The cacao is really hard to mix so I find that if I do this, stir it and squash any lumps until it is all mixed up when I take it out of the microwave, then add the rest of the coconut milk and any more sweetener you feel it needs, before putting it back into the microwave until it is nice and hot you don't end up with chunks of raw cacao in your mug when you are trying to drink it. If you've ever tried raw cacao you know it tastes kind of like dirt all by itself. I am limited in what I can add for ingredients but if you added some peppermint to this hot chocolate I can image that it would start to taste a bit like a Starbucks Peppermint Hot Chocolate. Mmmmmm…
Please let me know what you think of the chocolate options I've given and tell me about any that you have tried. I'm always interested in more varieties of chocolates.