Ahhhhh, the warm, sweet fragrance of Bourbon Vanilla. It is a subtle scent that makes you feel cozy and comfortable, but also that you are loved and safe. A clean scent that wraps you in a big hug. Coconut Verbena on the other hand reminds you of the hot sun on your face and warm sand under your feet as you walk into the crisp, blue, ocean water. It is fresh scent that immediately takes you back to summer fun or your favourite winter beach vacation. These were the two distinct scents that greeted me when I opened my shipment from Spongelle so I was very excited.
When I received the Spongelle Body Wash Infused Buffer in my FabFitFun Fall 2016 Subscription Box I was surprised at how much I loved it. I am a person who is always running late so anything that can shorten my morning routine is something I'm going to want to check out. The Spongelle buffer not only made things simpler and therefore quicker it also allows you to buff your skin, something we should all be doing regularly to get rid of the dead stuff.
The Bulgarian Rose buffer was shaped like a flower and had pedals that ripped off, but the body wash infused buffers I just ordered from Spongelle are round in shape so there is nothing to lose. I did like the pedal shape for grip though, I find the round ones are much easier to drop and therefore get wet again during use. For me, the Bulgarian Rose scent was way too overwhelming but the Bourbon Vanilla and Coconut Verbena are much milder and in my mind, way more pleasing. Also when I used the Bulgarian Rose buffer I found my skin got dry and was ever so slightly irritated. I have been using the Bourbon Vanilla for 10 days now though and my skin isn't getting dry or irritated at all so I'm starting to believe it might have just been a reaction to the fragrance that was drying out my skin.
Every body wash infused buffer that Spongelle sells has a recommended amount of washes it will provide, but personally, I think how long the buffer lasts depends on how much water you add every time you use it. I wet it once and don't have to do it again during the rest of my shower but when I drop it and it gets wet again, it seems to go through the body wash faster.
The entire process with Spongelle was simple and easy. Their web-site was a little confusing to sort out and find what I wanted but after that it was easy to order the product I chose and pay. Once I placed and paid for the order I received a confirmation email and five days later I received another email informing me my order had shipped. It then took 11 days to arrive at my home, which is average when receiving shipments from the USA.
As a person who usually uses shower gel and shower gloves, these body wash infused buffers are a wonderful alternative that smell glorious and shave valuable time off my shower. They definitely have a new fan in me.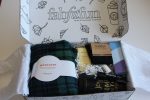 Read the FabFitFun 2016 Fall Subscription Box Review here.