In all the years I've lived in Vancouver, I have never experienced travelling from Vancouver to Victoria by ferry, in July or August. I guess I always thought it would be too busy. I was missing out though. BC Ferries (website here) even has a really cool special feature just for the summer. Plus, there are sailings every hour. They also offer different promotions in the summer as well as the rest of the year, to help you save money.
If you are looking for a few adventurous things to do in the Vancouver area and on Vancouver Island, check out these.
*this is a long article with lots of information*
You can drive on or walk on, and the trip is approx 1 hour and 35 minutes. There are several different vessels on the route between Vancouver (Tsawwassen) and Victoria (Swartz Bay). Each are a different age and size. Depending on the vessel, there are places to sit inside where you can have great views of the scenery outside, individual desks to work at and charge devices, you can watch TV, shop, and you can eat. There are also vending machines for food, drinks, and possibly electronics, as well as maps and tourist information for the area.
If you prefer, there is a quiet lounge available depending on the season, and route, for an additional cost. The lounge charge includes beverages and food. They have things like snacks, scones, veggies, cookies, juice, coffee, and tea. There are also workstations and reclining chairs. I've done this before and it is much quieter than the rest of the vessel. It is a separate room with a closed door.
Each vessel is different but most of the features are the same, they just might be different in size or offerings. I have purchased a travel size deodorant as well as a souvenir from the shops before, so they stock a range of items. I have walked by the kids zone play area (on larger vessels) and the games room, and while I have never gone in either of them, they both look great.
The TV is almost always on a sports channel, no matter which vessel. There are always a lot of people so seating on the ferries can be an issue if you are in a group. There can be groups of students on school trips and there can be tourist groups. Common areas can get very loud. There aren't usually huge line-ups for the washrooms but they can get busy and messy. I've used the time travelling from Vancouver to Victoria by ferry to sleep, read, eat, visit with travel companions, see the sights, take photographs, change and do my make-up for a business meeting, and work.
I have eaten in the quieter more relaxed all-inclusive buffet and I have eaten in the self-serve cafeteria style restaurant. The self-serve cafeteria style restaurant is where you can order White Spot food (a BC restaurant chain). The BC Ferries White Spot menu has a lot of things but I personally was happy to see the vegetarian burger. It is also in this area that you will find pre-wrapped or lighter breakfast and lunch options, including items from Bread Garden. I don't drink coffee but I did see signs displayed in some areas letting people know Starbucks coffee was being served. There are no Starbucks locations with baristas on the BC Ferries vessels, but there are some at different terminals.
If you prefer to carry your own snacks, here is an affiliate link for Prana. They have some great, healthy options that I enjoy. Our Recommendations page also has a coupon code.
If sitting inside isn't your thing for the entire journey, you do have the option to sit or walk outside on deck. While most of the year being outside for the entire journey isn't a choice made by a lot of people, during the summertime, it is a choice made by heaps of people. The sun shines on you, it's warm, but not too warm, and there are boats and sail boats on the water to watch. You also get a chance to see the marine life. Other than salt water coated, wind-blown hair and sunburn, it's a perfect way to spend some down time.
Travelling from Vancouver to Victoria by Ferry with a Car
Once you park your car on the ferry where you are directed to, shut the engine off. Grab anything you will want, or need, for the duration of the sailing, lock your car, and then head up to the passenger area. You aren't allowed to stay in the vehicle. There will be an announcement telling you when you need to go back to your car to get ready for departure. There isn't a lot of wait time once you get back to your car before you depart though so you do have to go when they tell you to. I've seen people stuck behind a parked car with no one in it because someone assumed they had lots of time.
Depending on the day of the week, the time of the day and the season, travelling from Vancouver to Victoria by ferry can be very busy. Or sailings can be cancelled. It's a good idea to check the BC Ferries website for any travel advisories before you leave and allow yourself a lot of time. Some sailings can be almost full, or full, hours before. If you need to cross at a specific time or you want to guarantee you make a sailing, you can reserve your spot on the BC Ferries website, in advance, for a fee.
There is a good promotion on from the end of June to mid-September. It is for the really early and really late sailings. Certain exceptions apply to dates and times, but it could save you the cost of about 1-2 passengers. Or it could save you the reservation fee if crossing at that time can't be left to chance.
On my last trip, shortly after departure, I heard an announcement I had never heard before. "Could the owner of ??? car with license plate ???, please report back to your car. It's still running." Apparently, they forgot to shut off the engine.
Travelling from Vancouver to Victoria by Ferry When Walking On
Walking on and travelling from Vancouver to Victoria by ferry is actually quite simple and easy. With some routes, you might have to purchase a ticket in advance as a passenger, but you don't have to for the Vancouver to Victoria route. At the terminal you can purchase a ticket with either the person at the ticket desk or you can use one of the self-serve machines. Cut-off is 10 minutes before sailing.
Baggage
If you are walking on and have baggage, there is a free service available with certain conditions. Here are some: The maximum weight is 23kg (50lbs). Your luggage or baggage must be contained in a suitcase, backpack or other suitable container. It must not contain fragile, perishable or valuable items and there can not be any dangerous goods. In Vancouver, you drop off your baggage before you go up the escalators. You pick it up on the carousel before you go down the final ones. In Victoria, you drop off your luggage right behind the ticket desk. You pick it up on the carousel outside the building.
Parking Your Car at the Ferry Terminal
Both Tsawwassen and Swartz Bay have short term and long term parking lots. You will need to remember your stall number and purchase a ticket at the on-site, outdoor ticket machines. Place the ticket on your dash if you are parked in the short-term lot. You keep the ticket with you, if you are parked in the long-term lot. Long-term lot prices are for 6 hours and 24 hours. Short-term lot prices are different for both locations but range between 20/30 minutes and the day ending at midnight.
If you are planning on parking in the long-term parking lot I recommend adding a minimum of 10 minutes to your estimated arrival time. Besides having to buy the parking ticket, you also have to walk with your baggage. Recently (July), I was traveling from Vancouver to Victoria by ferry on a Sunday at 11:00 am. The long-term parking lot was almost full. Not only did I have about a 500 metre walk but I also had to carry my bag so it slowed me down a bit.
Public Transportation Bus
In both Tsawwassen and Swartz Bay there are public bus stops that will take you from the ferry terminal to either the Victoria area or the Vancouver area. You will have to check out the websites for routes and schedules. In the Vancouver area you need either a Compass Card or a Compass Ticket to ride the public transportation.
Visit the Metro Vancouver transportation authority website. (Translink)
Visit Victoria Regional Transit System website. (BC Transit)
Taxi
There are taxis waiting for departing passengers who are getting off the ferry, at both ferry terminals.
BC Ferries Connector
This is a direct service from downtown Vancouver to downtown Victoria with multiple pick-up and drop-off locations along that route. You must reserve your seat if you want to guarantee your boarding. Otherwise you will be served on a first come, first served basis. If you require wheelchair accessible services you must reserve and pay in full, a minimum of 24 hours in advance. I have an aunt in Coquitlam who has used this service several times and enjoys the ease and convenience of it. She chooses to ride the sky train from Coquitlam to Vancouver for the Vancouver bus terminal pick-up location.
BC Ferries Connector also offers a service from the Vancouver International Airport to downtown Victoria.
Check out the BC Ferries Connector website here.
Travelling with Pets
Yes, you can travel with your pets but there are some rules. Guide/service dogs can travel in the passenger area but no other animals are allowed. Only one of the vessels has kennels installed to give owners the opportunity to leave their pet in the kennel (you must bring your own lock) during the crossing.
If you are travelling by car, your pet can remain in the car. If you are travelling without a car, you and your pet will travel in the pet area. Dogs must be on a leash and all other pets must be in a carrying case. BC Ferries recommend you walk your pet before the sailing. The pet area is not to be used by your pet to relieve her/himself. While accidents are possible, you are asked to clean up after your pet on the vessel.
Special Feature for the Summer on BC Ferries
I had no idea this existed.
On select sailings throughout the summer, BC Ferries and Parks Canada run a wildlife program called the Coastal Naturalist Program. This is so cool!! There are 9 Coastal Naturalists and 18 different programs. Each of the Naturalists choose 2 topics of their choice, from a list of topics. One for the journey east and one for the journey west. They are all given 4 weeks of training with BC Ferries and Parks Canada. Teaching them to interact and engage with people of all ages.
[bctt tweet="On select sailings during summer BC Ferries & Parks Canada run the Coastal Naturalist Program." username="dapsile" nofollow"yes"]
Katie was the Naturalist on my sailing from Victoria to Vancouver and 2017 was her second summer doing this job. Amongst other things, it has allowed her the opportunity to see different whales. (I might have constantly asked her about whales) Unfortunately I missed her discussion because I had no idea it existed but she kindly answered my questions about the program after.
Topics include the ocean, BC's unique wildlife and marine life, as well as coastal, nautical and cultural history. The program informs people and hopefully increases their appreciation of everything BC has to offer. This is a great program for people new to the area, tourists, or even those of us who don't know much about the history, the wildlife or the marine life of the area. I wish I had known about it before.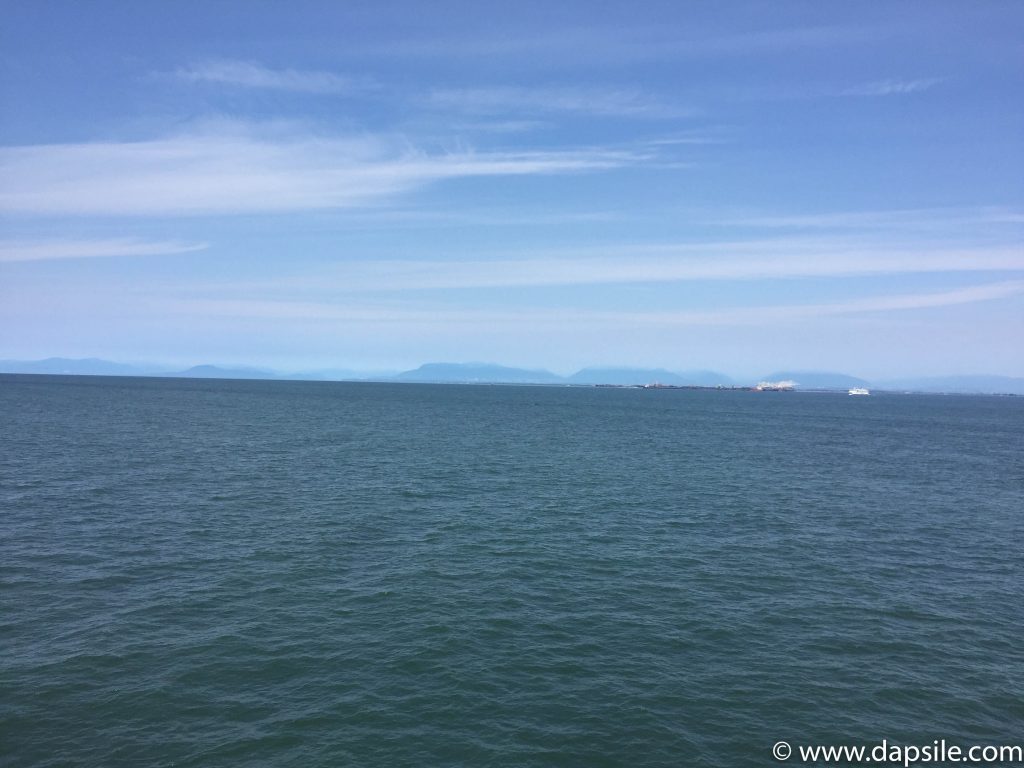 A Few of the Cons to Remember
There is free WiFi on all the BC Ferries vessels. I have never productively used it though, it is crap. The connection is just so bad. I don't think I have ever been able to pull up a webpage or even successfully check Facebook. I don't know why it is so bad, maybe because you are so far out in the water, but whatever the reason is, it isn't useful.
On my recent return trip from Victoria, the vessel was an older one and the air conditioning wasn't very powerful. Or it was non-existent.
The older, smaller vessels won't have as many features so don't expect everything to be the same on every vessel.
Final Reminder for Everyone
Whether you are driving or walking, depending on the day of the week, the time of the day and the season, travelling from Vancouver to Victoria by ferry can be very busy. Or sailings can be cancelled. I recommend checking the BC Ferries website for any travel advisories before you leave and allow yourself a lot of time. I also recommend checking it out for more information about the ferries, services, schedule, fares, policies, etc. This article is only about what I experienced, saw or heard, but their website contains heaps of useful information.
If you are interested in or starting to plan a trip, there are several travel related products and websites listed on the Yup…..We Like These page, to help you out. Some of the affiliate link descriptions also contain a coupon code for you to use.