[fusion_text]When I booked my flight to Australia, I knew I was going to be there for Christmas. I was really looking forward to my very first warm one. Instead I got one that reminded me of Christmas in Vancouver. It was wet. The way things worked out, I ended up visiting the Alice Springs area for Christmas. You can read all about my experience on a tour from Alice Springs to Uluru and Kings Canyon on December 23rd – 24th. I didn't see as much of Alice Springs as I had hoped to. The Christmas season, the rain, and me just basically being tired, meant I had excuses. I had been wanting to visit the Telegraph Station for years but instead, I watched movies and listened to the rain storm. Oh, and FaceTimed people back in Canada.
On the positive side, I got some laundry done, visited with family & friends back home, stayed dry, and just rested. On the negative side, I missed out seeing everything Alice Springs has to offer. Visiting the Alice Springs area is quite different than anywhere else I have been. It is in the middle of the Australian Outback, which is a desert, and a lot of the city has the look of being run down. That mixed with things you read on the internet about not walking around when it is dark, you start to believe there is nothing worth visiting for.
Alice Springs Bad Reputation
The thing is, I don't think it is that bad. I think it is just a city with more struggles than what most of us are used to. Visiting the Alice Springs area is something most tourists do, so it is full of us. Then there is the fact that the city is in the middle of a desert. It is approx 16 hours in each direction for the nearest large city. That's a long way from every thing and makes replacing things, expensive.
I know Alice Springs has a bad reputation for being dangerous but I personally never noticed or felt that while I was there. I read about the crimes that made the news, but crimes like these happen everywhere. You have to be careful and take precautions wherever you travel. Just because you are in a small city, doesn't mean there is no crime.
I stayed in a residential area outside of the centre of town though and I didn't have to park a rental car on the street. While I only went into the centre of town for two short trips in a vehicle, the neighbourhood I was in felt completely safe when I was walking the street by myself at 5:30 am and at 7:30 pm.
Accommodation in Alice Springs
I rented an apartment on Airbnb (you can read my previous article on Airbnb here) for my stay in Alice Springs. It was over Christmas and I just wanted to relax, eat food, watch movies, do laundry and talk to family and friends back home while everything was closed. I also looked at just renting a room but the ones that were close to tour pickups, weren't available. The ones available, weren't close to tour pickups. It worked out quite well though because the location I chose was a quick, easy walk away from accommodation that my tour was picking up from. A big bonus at 6 am. My host was also wonderful and not only picked me up at the airport but he also took me to the grocery store. Big thumbs up!
There are a lot of different accommodations in Alice Springs. Some of them nice, and some of them not so much. I would recommend thoroughly reading all of the reviews for a place. I was reading reviews for one place and they were all pretty good. Nothing outstanding, but I was going to book it. The very last review I read, talked about how the place was good except for one thing. As soon as the lights went off, hundreds of spiders started coming through the air vent into the bedroom. I didn't stay there.
Transportation While Visiting the Alice Springs Area
Alice Springs is not a large city so you can walk around most of it. Some accommodations even offer bikes to use or rent. There is a public transportation bus but it 's schedule is something like every 1-1/2 hours. There are also taxi's or you could rent a car.
To reach some of the popular sightseeing areas out of town, you can choose from a range of tour companies offering day tours, two day tours, or even more. I went with the Emu Run Experience for my two day tour from Alice Springs to Uluru and King's Canyon. The area has a lot to see though so there are other tours.
Flying to Alice Springs
There are bus tours and trains you can take from Adelaide to Alice Springs. There are also flights and I chose to fly with Virgin Australia.  The flight times and price all worked for me. The Alice Springs airport is a really nice, modern but small one. You even get to walk outside, between the airplane and the building. Very retro.
Inside the airport there are two shops and a cafe with quite a large sitting area. When I was leaving the Alice Springs airport, I really appreciated the massage chairs/recliners at one of the gates. It's a great way to wait for your flight.
I booked myself on the Alice Wanderer airport shuttle to get me back to the airport. I had to organize the pickup from one of the accommodations they pickup from, but it was very close to my Airbnb location. It was all very convenient and easy actually.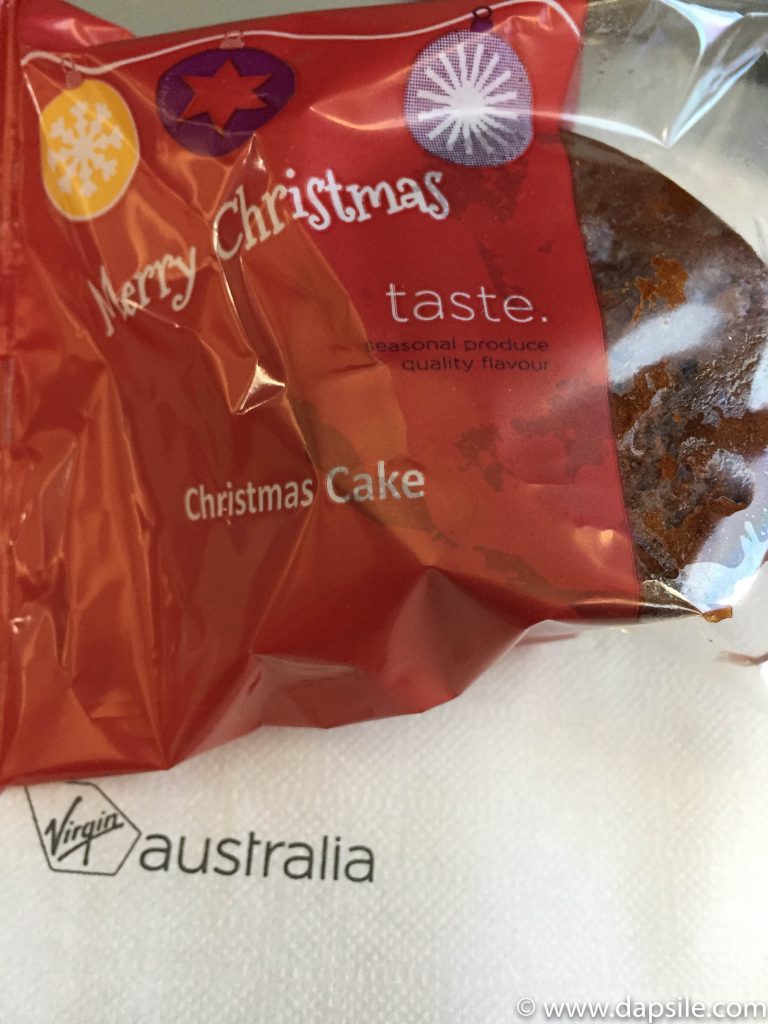 An Eventful Evening With a New Friend
I remember when I was a kid, I heard stories like, oh the cockroaches will be the only things to survive a nuclear war. You know what the stories didn't tell you though, that Australian cockroaches won't just survive but they will protect some animals by sitting on top of them and end up ruling the world when they all survive.
The first time I saw an Australian cockroach was at night, in the city, and it was large. The next time I saw a cockroach was at about 2 am, in my room, in the Airbnb apartment I was renting in Alice Springs. The thing actually made noise moving, before I even saw it, cause things that large are noisy when they travel. At 2 am, that freakin' thing looked like a small rodent or maybe even a child, bent on my surrender & destruction.
I was surprised & freaked out (okay I might have let out a squeal but I'm sure it was small) when I saw it but figured I was tough enough to kill the bug. I was a superior human. Instead, I almost cried purely out of fear by the time I was done. And all I had managed to do, was send it scurrying/jogging into my suitcase. I like to think that cockroach was also scared of me. With my human leg that kept randomly lifting and dropping to the floor, over and over again with no action, direction or even any other movement. So, he ran into my suitcase out of fear.
Instead, I think it was actually a strategically planned event done to keep me awake half the night simultaneously listening for movement and having the feeling of bugs crawling all over me. Not to mention the horrific thought of having to go into my suitcase for clothes in the morning that just kept going through my brain on some kind of momentum building loop. Two days before on my tour, when the guide explained we had to watch where we walked because there were deadly snakes, that didn't even phase me. But this night, an Australian cockroach beat me. It won. I couldn't even bring myself to take a picture to show you. I'm pretty sure the moving shadows on the wall were that thing moving around the room. The entire time knowing I was completely awake and barely breathing.
Maybe it wasn't wind I heard that night, but instead, cackles of laughter.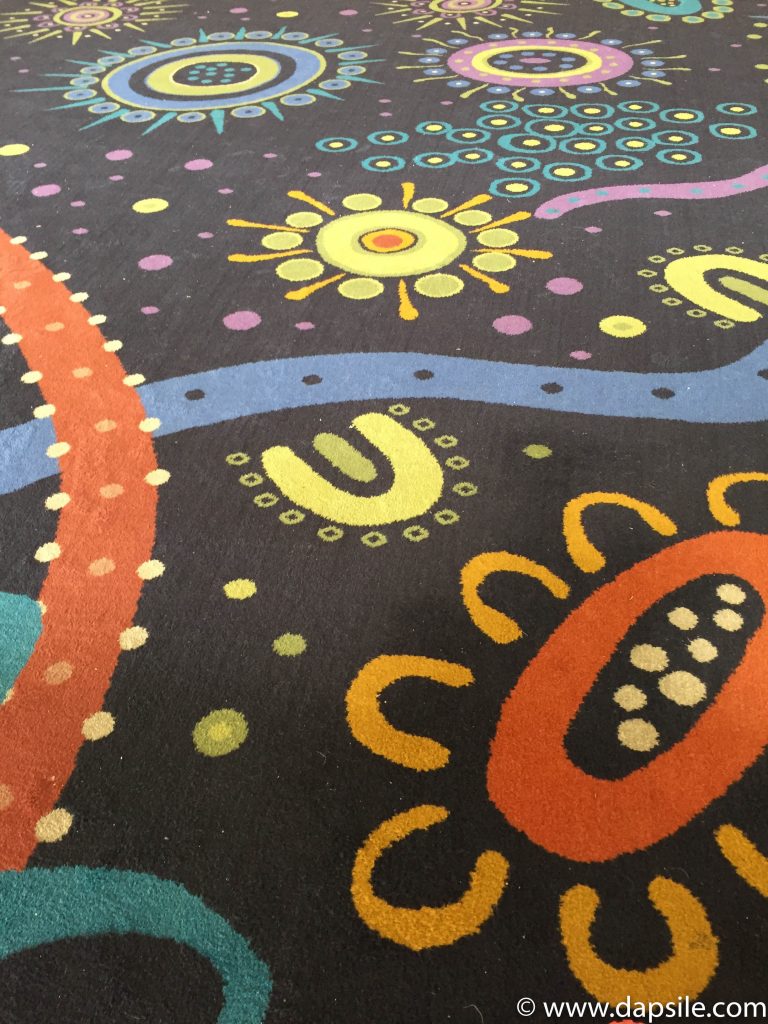 Alice Springs
I was in Alice Springs for December 25th & 26th. It rained while I was there. A lot. So I was a whiney baby. I didn't go out to see any of the wonderful sights the city has to offer. I don't recommend doing this but then again, Uluru was closed one day because of the rain, my Kings Canyon tour almost didn't happen and Alice Springs ended up getting enough rain that I saw flooded roads as well as the Todd River flowing-ish. All quite rare experiences so at least I came out of it all with something memorable.
Another bit of information I found interesting, the potatoes I bought for Christmas dinner, weren't covered in the dirt I am used to seeing. The bright red dirt of the area covered them instead. It was weird but cool at the same time.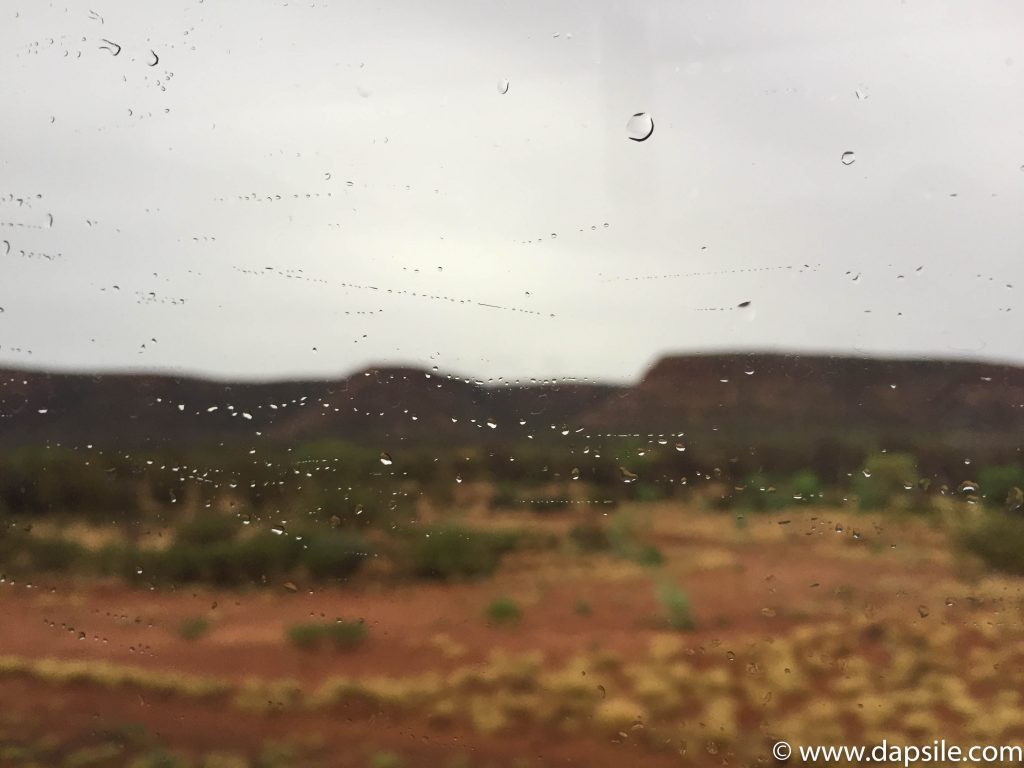 If you are interested in or starting to plan a trip, there are several travel related products and websites listed on the Yup…..We Like These page, to help you out. Some of the affiliate link descriptions also contain a coupon code for you to use.
[/fusion_text][one_fifth last="no" spacing="yes" center_content="no" hide_on_mobile="no" background_color="" background_image="" background_repeat="no-repeat" background_position="left top" hover_type="none" link="" border_position="all" border_size="0px" border_color="" border_style="" padding="" margin_top="" margin_bottom="" animation_type="" animation_direction="" animation_speed="0.1″ animation_offset="" class="" id=""][/one_fifth][one_fifth last="no" spacing="yes" center_content="no" hide_on_mobile="no" background_color="" background_image="" background_repeat="no-repeat" background_position="left top" hover_type="none" link="" border_position="all" border_size="0px" border_color="" border_style="" padding="" margin_top="" margin_bottom="" animation_type="" animation_direction="" animation_speed="0.1″ animation_offset="" class="" id=""][imageframe lightbox="no" gallery_id="" lightbox_image="" style_type="none" hover_type="none" bordercolor="" bordersize="0px" borderradius="0″ stylecolor="" align="none" link="" linktarget="_self" animation_type="0″ animation_direction="down" animation_speed="0.1″ animation_offset="" hide_on_mobile="no" class="" id=""]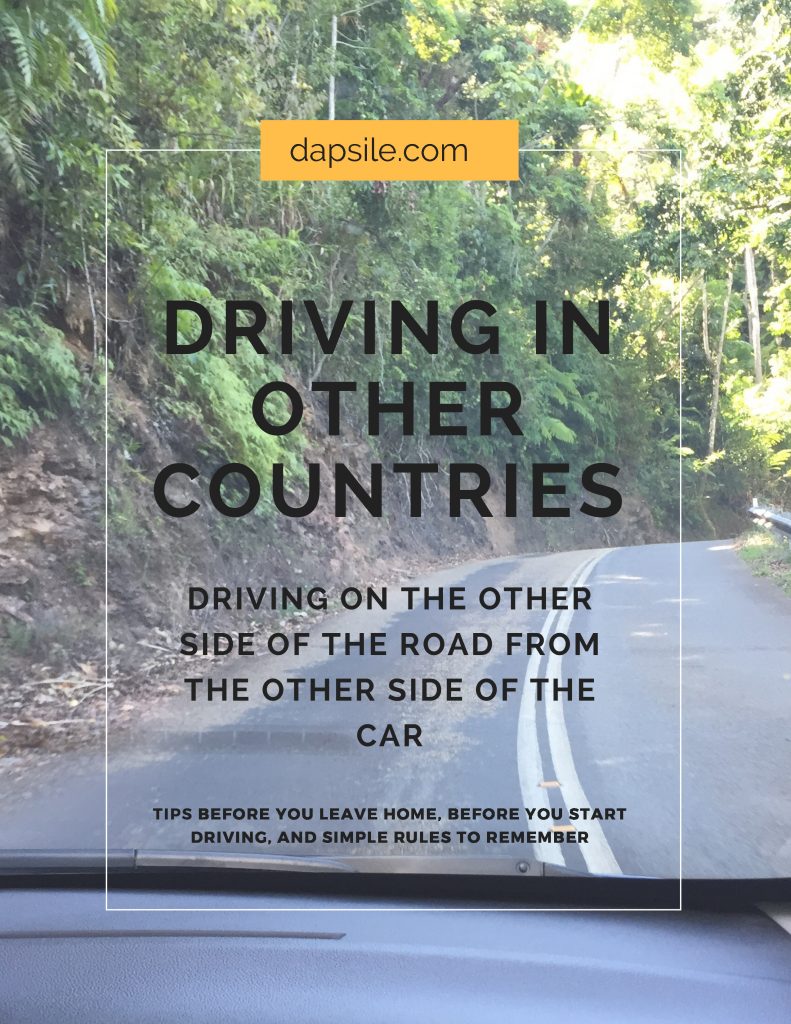 [/imageframe][/one_fifth]
[fusion_text]Sign-up to receive your FREE copy of Driving in Other Countries[/fusion_text]
[one_fifth last="yes" spacing="yes" center_content="no" hide_on_mobile="no" background_color="" background_image="" background_repeat="no-repeat" background_position="left top" hover_type="none" link="" border_position="all" border_size="0px" border_color="" border_style="" padding="" margin_top="" margin_bottom="" animation_type="" animation_direction="" animation_speed="0.1″ animation_offset="" class="" id=""][fusion_text][mc4wp_form id="303″][/fusion_text][/one_fifth][imageframe lightbox="no" gallery_id="" lightbox_image="" style_type="none" hover_type="none" bordercolor="" bordersize="0px" borderradius="0″ stylecolor="" align="none" link="" linktarget="_self" animation_type="0″ animation_direction="" animation_speed="0.1″ animation_offset="" hide_on_mobile="no" class="" id=""]
[/imageframe][fusion_text][/fusion_text]