The FabFitFun Subscription Box has so far not disappointed me. Actually the summer 2017 box is my third box and I have been very impressed with each of them. The value of products are always so much greater than the price of the box. For the first time, we were able to choose two of the products in the FabFitFun Summer 2017 subscription box. They were vague choices though so that is was still a surprise when we received the box. Choice one was traveler, artist or chef. Choice two was fitness or beauty. I chose traveler and fitness.
FabFitFun Summer 2017 Products
Kris Nations Mystic Bar Necklace
I like the concept of this necklace but I'm not fond of it. The hand-cut stones are very pretty but I feel the 18K gold overlay chain looks cheap. I also find it feels quite rough but that could be because of the way the links are positioned. The necklace is adjustable between 16"-18". There is a small piece of larger links to use. I found it to be difficult to open and close too.
I like this glass water bottle. It has a colourful silicone sleeve and a plastic lid with built-in carry handle. My favourite water bottle is the S'well water bottle but this BKR bottle now comes in as a close second. It can go in the dishwasher. That is a big selling feature for me. It's great for those
Eau Thermale Avene Ultra-Light Hydrating Sunscreen Lotion SPF 50+
I was visiting family the day after I received my box so I asked my cousin's wife to try this sunscreen lotion on her face while she played softball. She liked it. This is what she had to say: It didn't even feel like she was wearing sunscreen. It wasn't oily and it didn't bleed into her eyes or mouth. She had poured water on her face but it didn't stick, kind of like the lotion was moisture wicking. The bonus was there was no scent to it.
Juice Beauty Smoothing Eye Concentrate
I haven't used this eye concentrate long enough to soothe my dark circles or fine lines but I like it so far. It's made with organic and natural ingredients. It also has a light texture with a faint fruity scent. It didn't cause my face to break out and a little bit of it goes a long way.
Yup, I like this. Mine is the black and white alligator tie die. This ruana is a long rectangular shaped piece of material but about half of it is split in two vertically. Like a Y shape. It can be worn as a sarong, a scarf or it can be draped over your shoulders as a shawl. I love the versatility of it and it is a great item for travelling.
Company Bonus: 25% of each ruana sold supports Joyful Heart Foundation's vision to create a world free of sexual assault, domestic violence and child abuse.
Cargo HD Picture Perfect Highlighter in Bronze
I was not expecting to like this highlighter so much. It just feels so soft on my skin when I am applying it. I couldn't tell you if works with HD filming but I can tell you it feels soft on my skin and it leaves it looking bronzed and almost shiny and glowing. I think I should check YouTube though to confirm I am applying it correctly. I ended up applying it over the fine lines around my eyes, where it drew too much attention, so I started wiping it off. I don't think that is supposed to happen. I think it is probably applied lower.
Choice 1: Traveler
Understated Leather On The Road Again Travel Set
This metallic, rose gold, vegan leather travel set is quite lovely. The luggage tag has Hands Off written in white on it. It would make your luggage stand out from others on the carousel. The passport cover has On The Road Again written on it in white. I've only had a passport cover for the last five years but I quite like them. I really like this set. I love the metallic colour and the fact that it is a vegan leather.
Choice 2: Fitness
Way of Will 03 Soothe and Cool Massage Oil
Okay I didn't try this on any sore muscles but I did put it on my legs after my shower. I love the natural ingredients used and the refreshing peppermint fragrance. I felt both the cooling effect and the fragrance were very subtle. The oil also absorbed into my skin quite quickly. There was no oily residue left on my legs or my clothes.
---
**This contains an Affiliate Link. There is no additional cost to you for using it but I will receive a commission for referring you if you purchase a box.**
FabFitFun is one of my favourite subscription boxes. I feel it has great value. Yes the prices are in US dollars and you have to pay to ship to Canada, but I found the value of products in the box far exceeded the price of the box so it was definitely worth it for me.
By clicking here and using the code "WINTER10" you get $10.00 off your first box purchase. There are two plans to choose from. A seasonal plan (1 box) or an annual plan (4 quarterly boxes).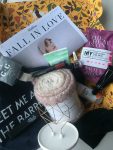 Read the FabFitFun Fall 2017 Subscription Box review here.