Woohoo! It's that time again. Time for the quarterly delivery of my favourite subscription box. The FabFitFun Winter 2017 subscription box arrived this week. It was filled with treats to get you through the winter months in warmth, style, and feeling refreshed. It's all about self-care and looking good.
This lotion feels silky smooth when applied. Not greasy at all. My hands felt so soft and there was no residue left behind on anything I touched. The scent though is a bit, I don't know, almost soapy.
Unfortunately, with the weather getting colder, my skin is quite dry and the AHAVA hand cream didn't work as well as my regular hand cream. I will continue using it though and this large container will last me quite a while. I get the feeling my summer skin will enjoy it more.
It's like the people at FabFitFun know me personally. My mug says 'I'd Rather Be in Bed' with two sets of eyelashes in the closed position and the words shaped like a smile.
I love that I received a nice big mug, cozy socks, and a poncho scarf in the FabFitFun Winter 2017 subscription box. I've been gifted with cozy, warmth.
The FabFitFun Winter 2017 subscription box contained another exfoliate. I love how the box generally has a face treatment in it of some kind.
I have very sensitive skin and I found this exfoliating treatment quite abrasive. It felt like it was burning while it was on. For that reason I only left it on for less than a minute. My face stopped burning immediately when I rinsed it off though.
My face did not look red, it did not burn, it did not breakout. None of that happened. I was quite impressed with this exfoliating treatment.
I received my choker in Rose Gold. Unfortunately, my skin tone only works with silver so this one will end up being a re-gift. For that reason, I won't be opening it. It looks cute though.
My palette is Smokey which is exactly what I was hoping to get. I can wear those colours but I would not have been able to wear the nude colours. I am so excited to go out now with some wonderful smoky eyes.
This doucce eyeshadow palette is one of the design your own type. So, it is a magnetic case filled with a selection of replaceable eyeshadow choices. The only downside I can see is the lack of space for a mini brush, allowing me to travel in a minimalistic way. All in all I am happy with it though.
These super soft, cozy, socks are aloe infused to provide soothing relief to your tired feet after your workout. Or just anytime.
I can't vouch for them providing soothing relief yet because I haven't tried them when my feet were tired but I can however, tell you how crazy soft and cozy they are. My feet were toasty warm while they were surrounded by fuzzy goodness.
I received the poncho scarf in Charcoal. I did well with the selections of the FabFitFun Winter 2017 subscription box. Almost everything I received, was in the colours I hoped to get.
Normally I wouldn't describe this poncho as a poncho. To me, it's more like a big scarf with a slit in it so you could wear it over your shoulders. The charcoal colour with the stripes reminds me of these grey wool blankets my Mom used for moving and wrapping up our car in the winter. But this poncho scarf is softer, prettier, and much more stylish. It is reversible, plus you can wear it with a belt to add another look. I absolutely LOVE it!
Wellness Choice Item
FFFTV Fitness Ball with Jillian Michaels Videos
Or
I've been super excited to try this spray. I have a sensitive nose and I love smells. I also love essential oils. So spraying some of this on my pillow, with its blend of lavender, vetivert, and chamomile, is something I was very excited about.
This pillow spray did not disappoint. I can't say it helped me sleep but it sure smells relaxing. I think I sprayed too much on my pillow though because my hair had that essential oil scent the following day. It wasn't a hair washing day.
Beauty Choice Item
Grace & Stella Anti-Wrinkle + Energizing Eye Masks
Or
The scent of this hair mask makes me feel like I'm heading to the beach. Until I head out into the cold.
There are several ways to use this mask. I didn't use any of them. Instead I chose to use it in the shower so my hair wasn't towel dried. After I washed my hair I wrung out as much water as I could, then I applied the mask. I left it on for five minutes before I rinsed it out. It was softer and less dry and frizzy looking after though so I can only imagine how this mask would work if I followed the instructions. I really liked this hair mask.
You can get your own FabFitFun (affiliate link) subscription box by using that link and the code 'FIRSTBOX' for $10 OFF your first box. The Winter 2017 box is sold out but the Post Winter Editor's Box is now available and it also contains more than $200 worth of amazing goodies.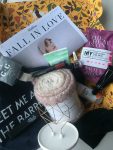 You can read the FabFitFun Fall 2017 Subscription Box review here.