With the subscription boxes coming from the USA up to Canada, you must decide if the shipping and dollar conversion are worth it for you. While I like the many different subscription box options offered by Quarterly Co., when I ordered the Fall 2016 Literary Box at $49.00 USA, I had no idea that between conversion, shipping and C.O.D. costs, I would be spending around $100.00 CAD. It was about the same for the Winter 2017 Literary Box.
I like the concept of the Literary Box by Quarterly Co. Each quarter you receive a box curated by a different author. Inside the box is a copy of the author's upcoming release with personal notes on yellow sticky notes. The notes are obviously not hand-written for each box but they are copies of hand-written notes. It's a great insight into the author's story. And something you normally don't get a chance to read.
Each Literary Box also contains two other books chosen by the curator, by writers they personally admire. As well as a few surprises that blend well with books and reading.
Literary Box Fall 2016 – Curated by Britt Bennett
First Edition Tea Company – Pride and Prejudice Blend – 10g
Custom mug with quote from book – "All good secrets have a taste before you tell them."
What a great idea. A mug with an individual packet of tea. Just the thing to enjoy while you are taking some personal time to read one of the great books in the Quarterly Literary Box subscription box. The mug was specially printed with a quote from The Mothers by Brit Bennett and the tea is a wonderfully packaged addition.
Diamond Window Decal
This is something different. I'm not sure if I personally will ever use it but I know of a few little girls I could give it to who will probably enjoy it.
Books:
The books chosen for the Quarterly Fall Literary Box 2016 were about women. They were three authors I had never read before and probably wouldn't have on my own because they aren't my normal genre. I'm so happy I had the opportunity though because I enjoyed them.
The Mothers by Brit Bennett
Sula by Toni Morrison
We Should All Be Feminists by Chimamanda Ngozi Adichie
All the books were good but I enjoyed reading Chimamanda Ngozi Adichie's own stories and accounts of experiences she, or people she knows, have had with feminism and the limiting beliefs of others.
Literary Box Winter 2017 – Curated by Kayla Rae Whitaker
Bookmark to colour with artwork by Julie Doucet
A 5 pack of mini sized pencil crayons
This is a fun idea. A bookmark and colouring mixed together to give you an individualized bookmark for your reading enjoyment. The cool artwork was created by the cartoonist Julie Doucet.
Great idea but it left me feeling a little let down regarding the value of the Literary Box. I was kind of expecting more than a paper bookmark I could colour with mini pencil crayons. Perhaps a mini colouring book would have had a less thrifty look for the box.
Books:
Again, the books chosen for the Winter 2017 Quarterly Literary Box were three books by three authors I never would have normally taken the time to read. I loved the opportunity and I do really love those personalized notes.
The Animators by Kayla Rae Whitaker
The Argonauts by Maggie Nelson
The Annie Year by Stephanie Wilbur Ash
I hate to say it but overall the Quarterly Literary Box was very disappointing for me. It is a great idea, I love the opportunity to read books and authors I normally would not read, and those notes throughout the curating author's book are awesome, but it just wasn't worth the price. If I lived in the USA I would probably appreciate this box more but I felt the cost to receive it in Canada is more than it is worth. It wasn't a good value for me.
---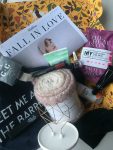 Nothing related to books and reading but if you are looking for a subscription box with great value that will be delivered to your house on a quarterly basis, my recommendation is the FabFitFun subscription box. If you haven't read it yet, here is the Fall 2017 review. You can click here (affiliate link) and use the code 'WINTER10' for $10 OFF your first purchase to enjoy the Winter 2017 box.