Located on the east coast of the South Island and a little north of the half-way mark, Christchurch is the third largest city in New Zealand. It is the largest in the South Island with a population of somewhere between 350,000 and 400,000.
I only spent three days in Christchurch. The first was a Friday, it was spent with a friend and her daughter where they drove me around a bit and shared knowledge and experiences. The second day, Saturday, was spent with another friend and her surprise wedding. Which meant the only day I really had a chance to explore Christchurch was Sunday, the third day. There wasn't a lot of activity in the CBD that day.
Christchurch was hit with a major earthquake in February 2011, I heard about it all the way here in Canada. The thing I didn't realize is how long it takes to rebuild after a major disaster. You never hear about that part. Usually after a few days or maybe even a week the news finds something else to report on. I visited Christchurch in February 2017 and I was stunned. They are doing an amazing job with the rebuild but it was nowhere near being completed.
Entire neighbourhoods have disappeared in Christchurch because of the 2011 earthquake. A friend drove me around and showed me how there are streets with plots of land but there are no longer homes or any other buildings. Just open fields with sidewalks and streets. I never expected that and I was very surprised. It was both the strangest and saddest thing to see.
Seeing what that earthquake did to this amazing city first hand, even six years later, was quite the eye-opening experience.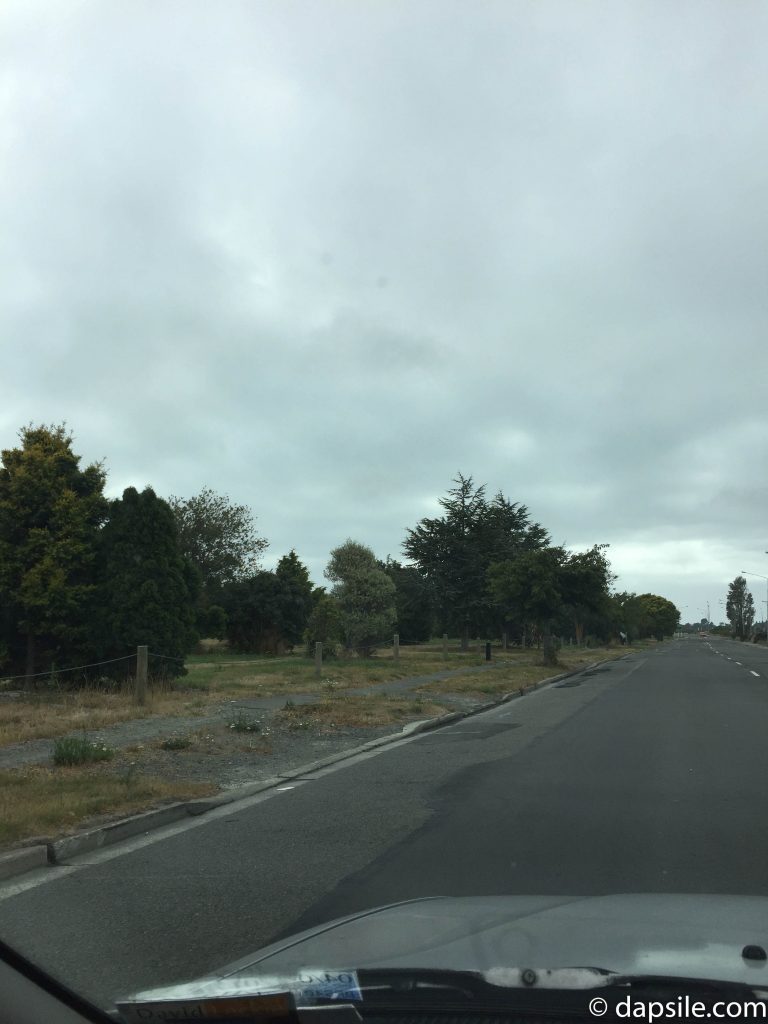 Getting To and From the Christchurch Airport and Around Town
Shuttle:
When I arrived in Christchurch the first time it was after midnight and when I left it for the last time, it was before 6 am. I booked myself the SuperShuttle online for both trips. SuperShuttle is available at 9 different airports on the North and South Islands in New Zealand. I booked through their website but they also have an app you can use.
The downside to this shuttle is when you are being dropped off. My flight was arriving after midnight so I chose one of the closest hotels in distance so that I could get sleep because I knew my body wasn't going to be happy with me. The drivers drop people off in no particular order though, they use their discretion to decide who to drop off first. Apparently because I looked young and healthy, I was dropped off last.
Car Hire:
I chose to hire a car in Christchurch through Thrifty's Car Rental relocation program, which ended up being from the airport. They were easy to find in the airport, very kind, and very helpful. There were quite a lot of car hire places located in the airport though and quite a lot of people renting from them. The lines were huge. A few of the companies did have other locations in the city.
The relocation program is offered by rental companies throughout New Zealand, as well as third parties, where you can rent cars, and even campervans for free or minimal rental charge. You still pay full price for insurance and petrol though to drive the vehicle from one location to another. The vehicle, days, and locations are chosen by you from what the company has available. Luckily there was always something available for me on the days and locations I wanted.
I used Thrifty Car Rentals and their car relocation program to hire a car from Queenstown to Christchurch. I had two days to travel between the locations but I didn't stop much, which allowed me time in the city with the car.
Taxi:
I took a taxi to the airport to pick-up my car rental. I was staying in the CBD and the taxi ride cost me $50-$60. The price was insane for such a short distance, and it was the most expensive option available. Each of the taxis in Christchurch will also charge you a different rate because there are no set rates. I've paid that price here in Vancouver and I live like 20 km away from the airport.
The taxis in Christchurch are charged a fee to pick-up or deliver people at the airport which I'm guessing is passed on to the passengers. While I was there the fee was $5.50.
Uber:
Uber can't do pick-ups at the airport but when I was there I was told they could drop you off. But I did take an Uber a few times travelling around the city. I liked the convenience of both options but I personally found the Uber to be more convenient and cheaper.
Public City Bus:
After I dropped off my car rental when I came back to Christchurch, I took the public city bus from the airport to where I was staying. The buses run regularly (schedule depends on time and day though so check in advance) and the one-way adult fare from the airport was $8.50 (price in February 2017). It was easy and I just followed along on the map app on my phone so I knew when to get off.
Other than the transportation options listed above, you could also travel around Christchurch with the tram or even by taking a bus tour.
A little interesting traveler information I found when I first arrived after midnight at Christchurch Airport. It's a smaller airport and apparently a lot of people sleep there. I walked past an entire area where people were in sleeping bags sleeping on the floor. My guess is they were either catching another flight out or they were waiting to rent a vehicle or join a tour. Either way, I don't think I have ever seen so many people comfortably sleeping at the airport before. Again it could be because it was a smaller airport so it was more noticeable.
I spent one night in Christchurch before I left to see the rest of New Zealand. When I came back for a few days at the end of my trip I rented a room in a lovely woman's house through Airbnb. The only hotel I stayed at was great though.
BreakFree on Cashel
One of the newly built hotels in the Christchurch CBD, BreakFree on Cashel was awesome. Between when I arrived and when I left I was really only there for about 8 hours but I was very impressed none the less. The great way they use small spaces left its mark in my memory.
I had booked a single room but was upgraded to a double when I checked in, in the middle of the night. I was so tired and sore, it was greatly appreciated to have that extra room. Plus, my experience with BreakFree in Sydney was awful so it was great knowing it wasn't crappy at all their locations.
The rooms are quite compact with some of them not even having any windows or space on both sides of the bed. The bathrooms are built into the bedroom within a glass enclosure. But it still has a door. I like how BreakFree uses the space, it is tight but not crowded. The area might be small but they use it wisely. They still find space to give you a place to hang clothes, iron clothes, make tea/coffee, there is a refrigerator, a desk, and a TV. Even the bedside lamps are located on the wall and folded against it when not in use.
Oh, and the bed was super comfortable. Plus, the 2GB of free Wi-Fi available in the room was appreciated.
There are also onsite facilities I didn't get a chance to enjoy or use. Like the small workout room, the breakfast room, and the restaurant and bar. Or the in-room massage and onsite parking, both for an additional fee. BreakFree on Cashel was quite new and very clean. I might have only been there for a few hours but I definitely would have enjoyed staying longer.
A Few Places For Food In Christchurch
I didn't have a chance to eat out at a lot of different places in Christchurch but here are the places I did find.
Of course roaming around the city I found a place for hot chocolate……
Robert Harris Coffee Roasters
Walking around town on a Sunday afternoon meant I had a hard time finding places open. But attached to the YMCA was Robert Harris Coffee Roasters (website). Where I had cake and my very first white chocolate hot chocolate. White chocolate is sweeter and because I was pretty tired, it was extra appreciated. And the cake. Never forget cake. Both were delicious.
And while I was at my friend's backyard wedding I found a delicious burger place that catered the event. They even had a vegetarian option for me……
Bacon Bros
Not much to say other than Bacon Bros (website) made a delicious vegetarian option for me and they were also so nice and friendly.
In Christchurch they have a Burger Bar as well as a stall at the Farmer's Market. They also have a stall in Auckland and of course they are available for catering events.
Things To Do In Christchurch, New Zealand
I didn't have a chance to experience much because my free day was a Sunday but here are a few things to do in Christchurch. Well, at least the ones I did anyway.
Christchurch Art Gallery (Te Puna o Waiwhetu)
The night before I explored Christchurch was spent at a friend's house with her surprise wedding. I love that I had the opportunity to share that with the happy couple but it just meant a bit of a later start the next day. So, I didn't get to see too much at the Christchurch Art Gallery (website). I was thoroughly impressed with what I did see though, including the architecture of the building and the art displays outside, in front. It was all stunning.
Besides the wonderful building and art, what sticks out for me was the non-flexibility on the closing time. The doors literally automatically lock. That's when I realized the pressure the staff was putting on us to exit, totally made sense.
CBD
The Christchurch CBD is where many of the tourist attractions in the city are located. There is also shopping, restaurants, and hotels. Pretty much everything I did was in the CBD.
Re:START Storage Container Mall
What a great idea. As a temporary solution after the earthquake in February 2011, many shops opened their doors inside storage containers. It was colourful, trendy, and an exciting place to shop.
UPDATE:
The Re: START Mall has since closed.
Christchurch Cathedral
The Christchurch Cathedral was so heavily damaged in the February 2011 earthquake, it had to be closed and fenced off. Before that earthquake though it was a big tourist attraction for the city. The Gothic Revival style cathedral was built between 1864 and 1904, and while it is unfortunate that a historical building like this was so damaged beyond repair, it will be rebuilt. The rebuild will take approx. 10 years to complete but it will stick to its original design. Improvements will be made in seating and heating as well as strengthening the new building against future quakes.
Lantern Festival in the North Hagley Park
My Airbnb host invite me to attend the Lantern Festival with her in the North Hagley Park. The park is where the Botanical Gardens are located, as well as the Canterbury Museum. The Lantern Festival was a beautiful way to celebrate the Chinese New Year though. Besides all the amazing paper lanterns telling stories or just decorating the park, there was also a stage for performances and heaps of food vendors. It was busy but also a great way to spend my last night in Christchurch, and New Zealand.
Unfortunately I didn't get to experience a lot of the things to do in Christchurch but I still really enjoyed the city and my time there. Next time maybe I'll go hiking, or visit the Botanical Gardens, or check out the International Antarctic Centre, or walk around the Canterbury Museum, or I'll take a bus tour around the city. There are so many things to see and do.
Related Articles
New Zealand Art Worn as Jewellery and Who Doesn't Love Jewellery
Drive From Christchurch to Wellington, New Zealand
Wellington, New Zealand – Things to Do and See
Drive From Queenstown to Christchurch, New Zealand