While I didn't stay in Queenstown, it is a very touristy city with heaps of things to do there. It's quite busy, and it is where I flew in to from Auckland. It's also where I rented a car so I could drive from Queenstown to Christchurch. I had been in Wanaka so I easily took the shuttle back to Queenstown airport.
It takes approx. six hours to drive from Queenstown to Christchurch but I split it up into two days and stopped to see a few sites. Definitely a more relaxed trip than my drive from Christchurch to Wellington. I didn't stop and do everything available but these are the things I enjoyed on my drive from Queenstown to Christchurch.
Shuttle Bus
There are so many great things about New Zealand but one I continuously appreciated was the shuttle services to and from airports. Unfortunately, I can't remember which shuttle I used from Queenstown to Wanaka. I stood outside the airport at a stop and jumped on a bus that arrived. That's what I do remember. It was very easy.
I did use Alpine ConneXions shuttle from Wanaka back to Queenstown though. It's a great service, and I booked and paid online in advance.
Arrowtown
Less than a 30-minute drive from Queenstown is Arrowtown (website). A scenic, historical gold mining town worthy of all kinds of pictures. It's also a great place to spend a few hours eating and shopping.
The buildings on Buckingham Street were cute, quant, and beautifully historic. They were filled with the original post office, a museum, restaurants, and several kinds of shops. There was touristy merchandise, clothing, candy, and chocolate to name a few. Walking down the street further I came to a few more restaurants, and some homes and businesses across the street from a lovely park.
Parking wasn't easy on this main road, which is very busy, but if you go one street down the hill, Ramshaw Lane, there is a huge field/park with heaps of space available. And more shops. Including the Patagonia Chocolates ice cream place I was beginning to really love. I only spent about one – two hours in Arrowtown on my drive from Queenstown to Christchurch but I wish I would have stayed longer and enjoyed more of what they offered.
Lindis Pass
As you drive along this very scenic route, you will travel through Lindis Pass situated between the towns of Cromwell and Omarama. In parts, it's a windy drive through these hills but in other parts, I found it to be an easy drive. You are in the mountains though so you have to be aware of the possibility of snow and a more challenging drive. There was also a great lookout on the side of the road where you can stop and take pictures. You can even hike a short, easy hill which would give you an even better view.
These mountains are much softer than the Rocky Mountains I'm used to, and I really enjoyed the different look. (It's the main picture above under the title.)
Mount Cook and Mount Cook National Park
Mount Cook is the highest mountain in New Zealand and man does it make for a great picture. Even in February when I saw it, it was topped with snow. There is a lot to see and do in Mount Cook National Park but I didn't do any of it. Instead, I drove through and enjoyed the mountains from my view in the car while driving on the road.
There are hills to climb, glaciers and lakes to visit, skiing to enjoy, and you can even arrive in areas via helicopter. Depending on what you are looking to do, you might stop in Mount Cook National Park on your drive from Queensland to Christchurch. It really made for beautiful scenery.
Lake Pukaki
You know where I stopped? Lake Pukaki. It was way too stunning not too. The Lake was amazing on its own but having Mount Cook in the background, yeah I got some great photos at that stop. I did nothing else here because the water would have been too cold, but jeez it was a great place to enjoy the lake and the mountains.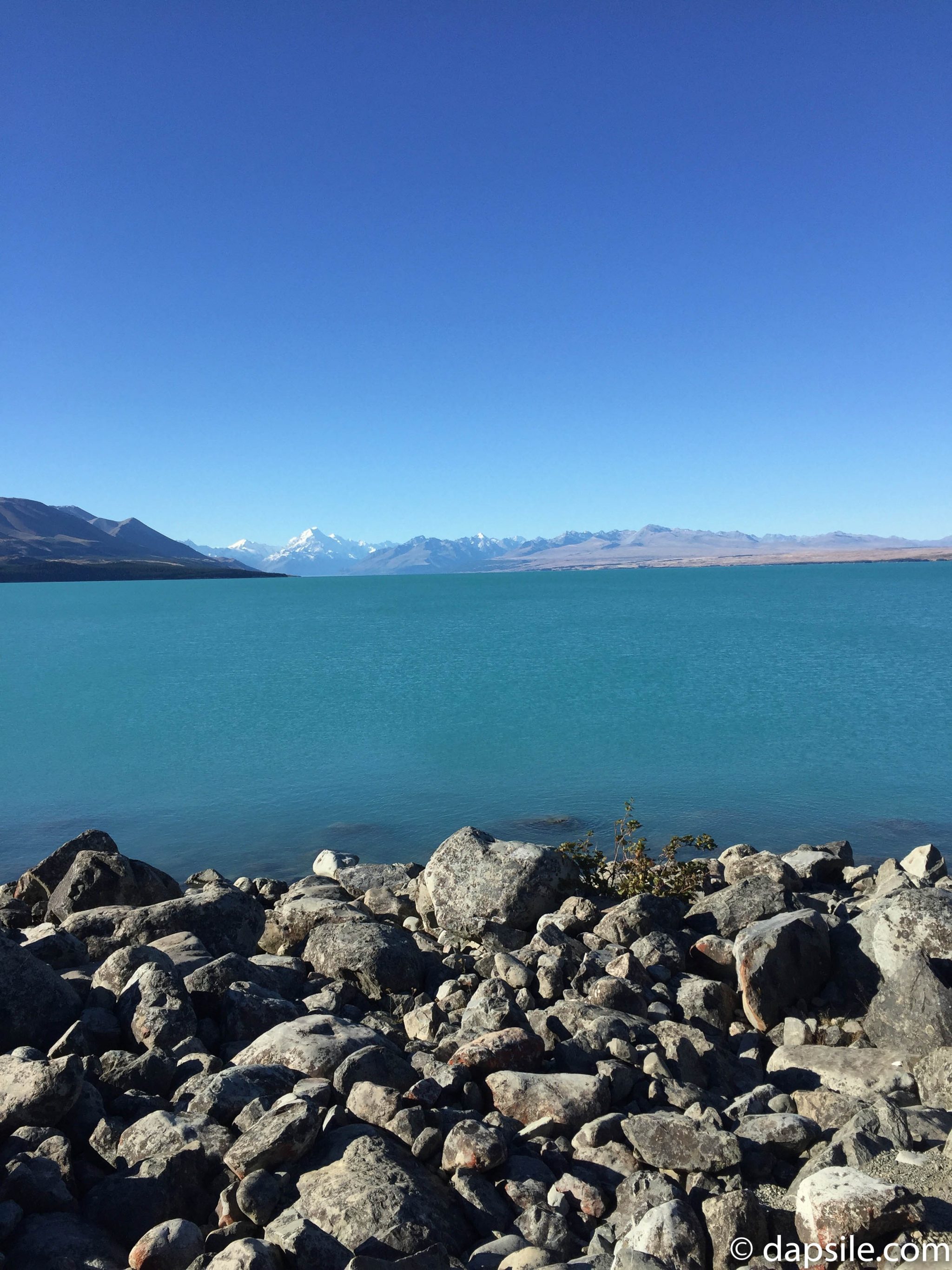 Church of the Good Shepard on Lake Tekapo
The last place I stopped before I arrived at my destination for the day was the historical stone building of the Church of the Good Shepard on Lake Tekapo (website). I didn't stop at the lake or in the town, but I joined bus tours and heaps of other tourists to walk around this church and try to take photographs worthy of the scenery.
The church is on an isolated piece of waterfront on the other side of town. Once again you get to enjoy the lake view with the mountains in the background. Only this time you can also enjoy walking around a tiny, historic church dating back to 1935. The church is interdenominational and services are still held regularly throughout the year. While you can take as many pictures as you want outside, photos are not allowed inside the church.
But be aware, I was not joking about the tour buses and heaps of tourists. There were a lot of people stopped here to admire this wonderful landmark.
Geraldine
Geraldine is one of the larger towns along the route when driving from Queenstown to Christchurch. It made finding a room to rent through Airbnb easier. Unfortunately, once again I arrived at a location later in the day, after everything had closed.
Geraldine is a nice stop for a few days. Besides the local shops in town there is also hiking, rafting, waterfalls, and rivers nearby to explore. Have you ever tried geocaching cause they have it too? Or you can stay indoors and visit the art galleries and museums.
There are more places to stop with things to see and do on the drive from Queenstown to Christchurch but at this point in my journey I just wanted to get to Christchurch and have a car at my disposal. So, I didn't make any more stops after Geraldine.
Related Articles
Christchurch, New Zealand – Getting Around and Things to Do
Drive From Christchurch to Wellington, New Zealand
Wellington, New Zealand – Things To Do and See
Drive From Wellington to Auckland – Visiting Rotorua